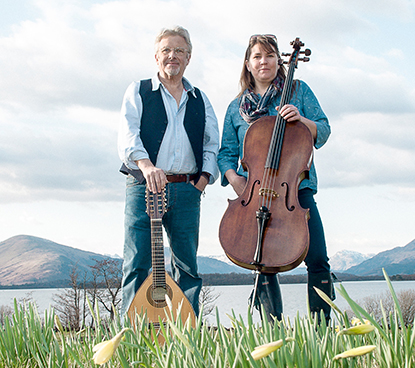 News Release Date:
October 15, 2014
Contact: Morgan Smith, 415-561-7049
What: A concert of sea songs, featuring Linsey Aitken and Ken Campbell, on tour from Loch Lomond, Scotland.
When: Saturday, October 25, 2014, 8:00 pm to 10:00 pm
Where: Aboard the 1886 Glasgow-built sailing ship Balclutha, berthed at Hyde Street Pier on San Francisco's Fisherman's Wharf.
Presenter: San Francisco Maritime National Historical Park
Tickets: $14 general, $12 San Francisco Maritime National Park Association members, $36 season ticket holders
Reservations: www.brownpapertickets.com/event/793172
Join the National Park Service for its 26th year of presenting some of the finest names in traditional and contemporary sea music as San Francisco Maritime National Historical Park presents Linsey Aitken and Ken Campbell in concert aboard the historic sailing ship Balclutha on Saturday, October 25 from 8:00 pm to 10:00 pm.
Linsey Aitken is a highly regarded cellist and singer, crossing genres from classical to folk. She has performed professionally throughout the UK from London's Royal Albert Hall to the north of Scotland, subsequently touring with Ken Campbell as a duo in the UK, Europe and the U.S.
Ken Campbell is a singer/songwriter and guitarist with a well-established career spanning more than 30 years, including five recordings to date and festival and concert performances throughout Europe, the U.S. and beyond.
Together they present one of the best songbooks in contemporary Scots acoustic music, featuring self-penned and traditional songs covering a host of contemporary and historic subjects, all with a Scottish-related theme.
San Francisco Maritime National Historical Park is located at the west end of Fisherman's Wharf in San Francisco. The park includes a magnificent fleet of National Historic Landmark vessels, Small Boat Shop, Maritime Museum, Visitor Center, Maritime Research Center and Aquatic Park Historic District. The park offers regular programs and sailing tours aboard the 1891 scow schooner Alma. For more information, call 415-447-5000 or visit nps.gov/safr and facebook.com/SanFranciscoMaritimeNHP.
###  10-15-14