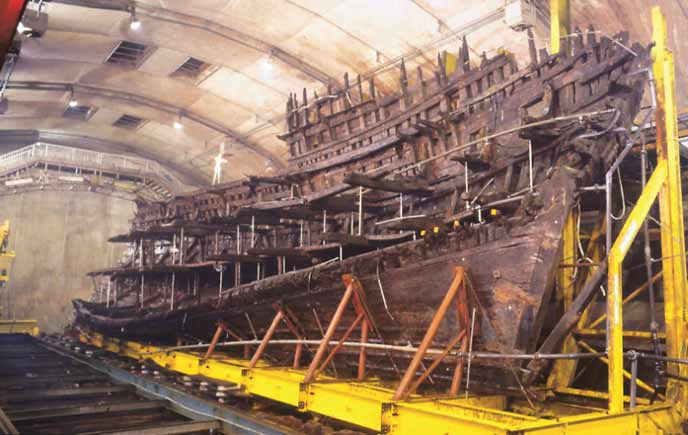 News Release Date:
September 29, 2014
Contact: Morgan Smith, 415-561-7049
San Francisco, CA – Join San Francisco Maritime National Historical Park for the free, public lecture "Saving the Mary Rose: Synchrotrons and the Preservation of a Tudor Warship" on Saturday, October 25 from 1 to 2 p.m. at the Aquatic Park Bathhouse, 900 Beach Street. Special guest speaker Dr. Ritimukta Sarangi, a staff scientist at the Stanford Linear Accelerator Center (SLAC), will present the compelling story of preserving the Mary Rose through archeology, chemistry, and physics.
Launched in 1511, the Tudor warship Mary Rose sailed in the service of King Henry VIII for more than 30 years, fighting in three wars. The ship sank in 1545 while leading an attack on the French fleet during the Third French War. More than 400 years later, in 1985, the rediscovered Mary Rose was raised from the water to be preserved. In 2002, the ship began rapidly deteriorating, and scientists conducted chemistry studies using X-rays from SLAC's Stanford Synchrotron Radiation Lightsource (SSRL) to diagnose the problem and suggest solutions to save this precious artifact.
The event, sponsored in partnership with the San Francisco Maritime National Park Association and South Bay Model Shipwrights, also features a ship model viewing from 11 a.m. to 4 p.m. Visitors can participate in a meet-and-greet with Bay Area Ship Model Club members from South Bay, Hyde Street Pier, and Redwood Empire model shipwrights organizations. Light refreshments will be provided.
Dr. Sarangi works in the Structural Molecular Biology group at SSRL, a subdivision of the Stanford Linear Accelerator Center. She has an undergraduate degree in chemistry from St. Xavier College in Kolkata, India; an MS in Chemistry from IIT Kanpur in India; and a PhD in chemistry from Stanford University. Her expertise is in hard X-ray spectroscopy, and her research focuses on understanding the geometric and electronic structure of metal sites in proteins. 
San Francisco Maritime National Historical Park includes a fleet of National Historic Landmark vessels at Hyde Street Pier, a Small Boat Shop, Maritime Museum, Visitor Center and Maritime Research Center. The park offers regular programs and sailing tours aboard the 1891 scow schooner Alma. For more information, call 415-447-5000 or visit nps.gov/safr and facebook.com/SanFranciscoMaritimeNHP. 
### 09/24/14