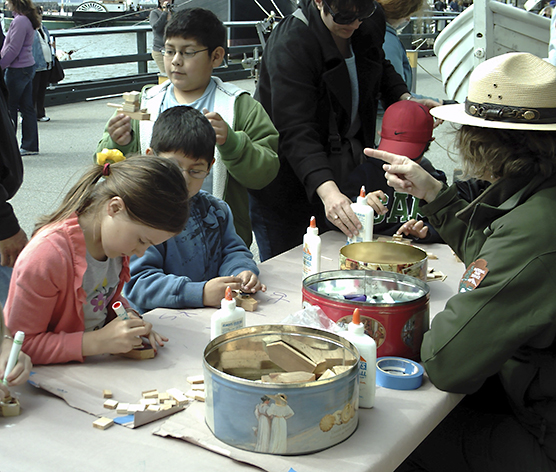 News Release Date:
April 14, 2014
Contact: Lynn Cullivan, 415-561-7006
San Francisco Maritime News Release 
For Immediate Release 
Contact: Lynn Cullivan, 415-561-7006
BOATLOAD OF KIDS ACTIVITIES ON JUNIOR RANGER DAYAT SAN FRANCISCO MARITIME NATIONAL HISTORICAL PARK
What: Hands-on activities for kids ages 5 to 12 on this park's Junior Ranger Day.
When: Saturday, April 19, 2014, 10:00am to 4:00pm.
Where: On Hyde Street Pier and in the Visitor Center Theater at San Francisco Maritime National Historical Park.
Fees: None. 
Public information: 415-447-5000, and https://www.nps.gov/safr/
Bring the kids and chart your course to Hyde Street Pier for a day of fun hands-on activities as we begin National Park Week with the park's Junior Ranger Day on Saturday, April 19. That day and Sunday, April 20 is a fee-free weekend in all national parks! At Hyde Street Pier, this means fees to board the fleet of historic floating sail and steam vessels are waived.
Enter Hyde Street Pier and see the docent at the front table to pick up a list of activities and their locations. Kids can make a model boat, make signal flag necklaces, operate a rope-making machine, make a miniature log raft, take part in a dory drill, sing sea chanteys with a ranger, take in an "Animals of Hyde Street Pier" ranger-led program to discover sea life around the pier, and more!
### 04-10-14