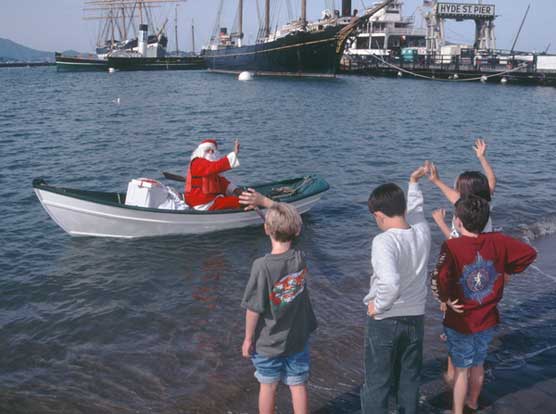 News Release Date:
November 20, 2007
Contact: John Cunnane, 415-561-7170
Unique Holiday Celebration Offers Family Fun for All
Saturday, December 8, 2007, 3:00 pm, aboard ship Balclutha
San Francisco Maritime National Historical Park presents "Christmas At Sea!" This special holiday celebration features live music, refreshments, ornament-making, costumed characters from 1901, and a special visit from Santa Claus, arriving by boat. 
The Dogwatch Nautical Band starts the festivities aboard the historic ship Balclutha at 3:00pm, performing traditional sea chanteys with a holiday twist. Their spirited maritime music is popular with adults and children, and audience participation is definitely encouraged! This band has performed at festivals, museums, yacht clubs, and on local television for the 50th anniversary of the Golden GateBridge.
Kids of all ages will enjoy the popular ornament-making activities and refreshments from 3:00-4:45pm. As the band concludes its performance, a park ranger will read a popular holiday story. Another highlight of the celebration is the unique water-borne arrival of the jolly fellow in the red coat. Santa arrives by boat at approximately 4:20pm, and will listen to children's wishes until the afternoon portion of the program ends at 4:45pm.
At 6:00pm, the park's costumed Living History Players will take you back to Christmas 1901, where you will meet and talk with the captains, wives, and crews aboard the historic vessels at Hyde Street Pier. With the lights of San Francisco twinkling in the background, the historic ships and characters offer a memorable holiday experience.
Reservations are required for the 6:00pm portion of the program. Please call 415-447-5000 for reservations and information. Admission to Christmas At Sea is simply the regular admission fee to board the historic ships - $5.00 for ages 16 and up and free for ages 15 and under with adult supervision.