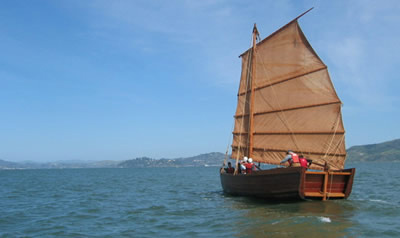 News Release Date:
April 3, 2007
Contact: John Cunnane, 415-561-7123
People of the Pacific Islands and Asia have made many contributions to the rich maritime history of California. San Francisco Maritime National Historical Park celebrates their stories in a series of programs and exhibits that highlight the hopes and challenges of their lives in America.
"Chinese Cannery Workers"
Sundays, May 6, 13, and 27, 1:00pm aboard the ship Balclutha at Hyde Street Pier

Join a ranger for a fascinating tour of the newly renovated Chinese cannery workers' quarters aboard the 1886 sailing ship Balclutha. Imagine the hardships of a long sea trip in such cramped and dangerous living quarters. Learn about the lives and cultural contributions of the men who were an essential part of west coast maritime commerce.
"Chinese Shrimp Junk Grace Quan Raises Sail"
Saturdays, May 19 and 26, 1:00pm at Hyde Street Pier- Free!

The Chinese shrimp boat, Grace Quan, is a replica of those sailed by Chinese immigrants on San Francisco Bay in the 19th century. Join park staff for a fun program that includes a tour of the boat, sail raising, and net hauling.
Chinatown Exhibit aboard Balclutha
Daily aboard the ship Balclutha at Hyde Street Pier

Explore the newly renovated "Chinatown" aboard Balclutha. Chinese cannery workers played a crucial role in west coast salmon fishing. Their story is told in vivid detail in this exhibit featuring a completely furnished Chinatown, including period clothes, provisions, and equipment used in the canning operations.
Asian American Exhibit at the Visitor Center
Daily at the VisitorCenter, 499 Jefferson Street- Free!

The west coast has always been a haven for immigrants from Asia seeking a better life in the new world. This fascinating display depicts their hopes and challenges. It includes stories of the Asian immigrants detained at Angel Island, including a Chinese monk's beautiful poetry. 
General Park Information
San Francisco Maritime National Historical Park includes a magnificent fleet of historic ships, a visitor center, and maritime library. For more information about the park and its public programs, please call 415-447-5000 or visit the park's website at https://www.nps.gov/safr.
Images are available at https://www.nps.gov/safr/photosmultimedia/photogallery.htm. (Note: The Maritime Museum at 900 Beach Street is closed for renovation. It will reopen in 2009.)