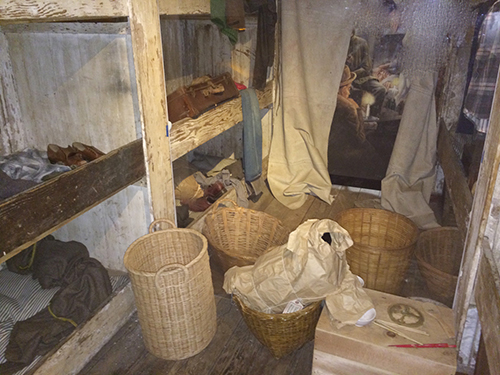 News Release Date:
April 27, 2015
Contact: Lynn Cullivan, 415-561-7006
Free admission to Hyde Street Pier, Visitor Center, and Maritime Museum. Admission for historic ships: Adults $5, Ages 15 and under free (with adult supervision). Free with National Park passes.
The Sea of Invisible Riches: Asian Americans and the Alaska Salmon Grounds, 1880-1929
Sundays, May 24 and 31, 2:15-3:00pm, aboard Balclutha, Hyde Street Pier.
Join us for an exploration of the role Asian Americans played in the struggle for immigration rights in the decades bordering 1900. This struggle took place on the vast arctic coast and ocean of Alaska and the Northeast Pacific. Along the way, learn how Asian Americans captured the invisible riches of a sea whose ecology and environment Europeans were still in the process of understanding.
On the Fringe
Saturdays, May 9 and 16, 2:15-3:00pm, aboard Balclutha, Hyde Street Pier.
What was it like to be on the fringe of shipboard society? During this ranger-guided tour on board Balclutha, hear stories of the difficult conditions that Chinese laborers endured in the salmon canning business in the late 19th and early 20th centuries.
The Poetry of Jason Bayani
Sunday May 24, 3:15pm, aboard Balclutha, Hyde Street Pier.
Poet, Jason Bayani, will be reading original work exploring his life as the son of Filipino immigrants and diving into the metaphysical realm of love, loss, and all that lies in between. Jason Bayani is the author of "Amulet" from Write Bloody Press. He's an MFA grad from Saint Mary's College, a Kundiman fellow, and is currently the program manager for Kearny Street Workshop, the longest running multi-disciplinary Asian Pacific American arts organization in the country.
Ongoing Exhibits
The park has a variety of ongoing exhibits that focus on the Asian American experience. Look for the Grace Quan at the small boat dock on Hyde Street Pier, an example of a small craft that Chinese immigrants used to catch shrimp in San Francisco Bay. Aboard the square-rigger Balclutha, the "Chinatown' exhibit provides an immersive experience into the living quarters of those who sailed to the Alaskan canneries. At the park Visitor Center, exhibits bring to life stories of 19th century Chinese immigration.
San Francisco Maritime National Historical Park is located at the west end of Fisherman's Wharf in San Francisco. The park includes a magnificent fleet of historic ships, Visitor Center, Maritime Museum, Maritime Research Center, and Aquatic Park Historic District. In celebration of the 100th anniversary of the National Park Service in 2016, the park seeks to connect with and create the next generation of park visitors, supporters and advocates and invites visitors to join us in celebrating the Centennial milestone. For more information, please call 415-447-5000 or visit nps.gov/safr, Twitter @SFMaritimeNPS, and facebook.com/SanFranciscoMaritimeNHP.
# # # 
4-24-15