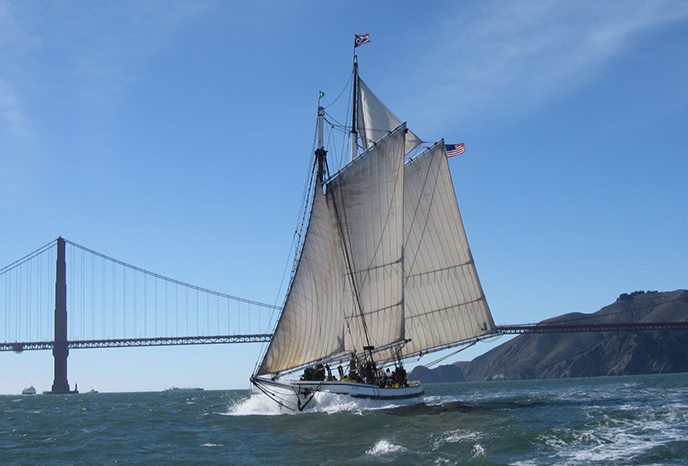 News Release Date:
May 22, 2015
Contact: Lynn Cullivan, 415-561-7006
What: Public sailing on San Francisco Bay aboard the restored 1891 scow schooner Alma.
When:  Selected Thursdays, Fridays, and Saturdays, 1:00-4:00, boarding at 12:30, June 4 through November 21, 2014. June dates: 4, 6, 11, 13, 18, 20, 25.
Where:  Boat leaves from Hyde Street Pier, San Francisco, at San Francisco Maritime National Historical Park. 
Fees:  Adults, $40. Ages 62 and over, $30. Ages 6 – 15, $20. Ages 5 and under, free (accompanied by an adult).
Tickets: Reserve at  https://www.recreation.gov and enter San Francisco Maritime in the search box, or call 1-877-444-6777. Limited spaces may be available at the Hyde Street Pier ticket booth on sailing days, 9:30am-Noon.
For more Alma info:415-447-5000, or https://www.nps.gov/safr/historyculture/alma.htm
Shanghai the kids to Hyde Street Pier for sailing adventures on San Francisco Bay aboard the 1891 scow schooner Alma! Haul lines to raise sail, or relax and enjoy the dazzling views of the bay in this unique national park experience. As you sail on this 3-hour tour, a Park Ranger spins tales of San Francisco's riveting history: Native Americans, Spanish explorers, bridges, the Gold Rush, Alcatraz and Angel Islands, the infamous Barbary Coast where sailors were shanghaied from the San Francisco waterfront for long ocean voyages, and more. It's a great way to "Graduate to the Great Outdoors"!
Before highways and bridges, hundreds of scow schooners like the Alma plied San Francisco Bay, hauling goods as the "flatbed trucks" of their day. The last of her kind, Alma will transport you to a long ago era on this unique, hands-on sailing program with the National Park Service.
Boarding is at 12:30, departing Hyde Street pier at 1:00. Be prepared for cold, wind, spray, and bright sun. Life jackets and flotation devices are provided. Bring water (no alcohol permitted), snacks, hat, sunglasses, sunscreen, layers of clothing, closed toe "active' footwear (no high heels), camera, binoculars, and a sense of adventure! Trip may be cancelled due to weather, or other safety concerns, at discretion of the captain.
San Francisco Maritime National Historical Park is located at the west end of Fisherman's Wharf in San Francisco. The park includes a magnificent fleet of historic ships, Visitor Center, Maritime Museum, Maritime Research Center, and Aquatic Park Historic District. In celebration of the 100th anniversary of the National Park Service in 2016, the park seeks to connect with and create the next generation of park visitors, supporters and advocates and invites visitors to join us in celebrating the Centennial milestone. For more information, please call 415-447-5000 or visit nps.gov/safr, Twitter @SFMaritimeNPS, and facebook.com/SanFranciscoMaritimeNHP.
# # # 
5-22-15