HANDS-ON LEARNING ABOARD 1891 NATIONAL LANDMARK SCOW SCHOONER ALMA! 2013
Date:
May 30, 2013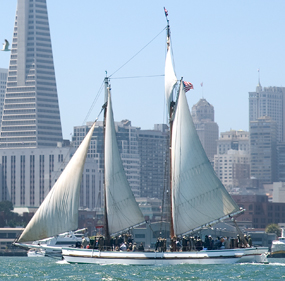 Back for a seventh season - San Francisco Maritime National Historical Park to take passengers on a three hour San Francisco Bay sailing adventure, summer and fall seasons!
Haul line to raise the sails with National Park Service Rangers as you explore the Bay aboard the historic 60 foot Alma! Take in dazzling views and San Francisco's riveting history: Native Americans, Spanish explorers, the Gold Rush, lighthouses, the Barbary Coast, Fisherman's Wharf, earthquakes, shipbuilding and more! Before highways and bridges, hundreds of scow schooners like Alma plied San Francisco Bay, hauling goods as the "flatbed trucks" of their day. The last of her kind, Alma will transport you to a long ago era on this unique, hands-on, educational sailing program with the National Park Service. Sailing runs on selected days from Saturday, June 1, to Saturday, November 23. For a full sailing schedule, please see www.nps.gov/safr/
Sailing schedule:
June 1, 8, 15, 20, 27, 29
July 3, 6, 11, 18, 25
August 1, 22, 29, 31
September 21
October 5, 26
November 2, 9, 16, 23
Boarding is at 12:30 for this three-hour sail which departs at 1:00pm from Hyde Street Pier, at Hyde and Jefferson Streets. Rates: $40 adult, $30 senior, $20 child, under six free with adult.
Catch an on-the-water view of America's Cup! Special Alma race-day sails on July 20, 27, August 24, September 14. Boarding is at 11:30am for this three-hour sail which departs at noon from Hyde Street Pier, at Hyde and Jefferson Streets. Rates: $50 adult, $40 senior, $30 child, under six free with adult. 
For reservations for all sails call 415-447-5000. Tickets purchased on day of sail at Hyde Street Pier ticket booth (opens at 9:30am). The historic Alma is U.S. Coast Guard certified, can carry 37 passengers maximum, and is wheelchair accessible with assistance.
Rough conditions are possible. Be prepared for cold, wind, spray and bright sun. Life jackets and flotation devices are provided. Bring water (no alcohol permitted), snacks, hat, sunscreen, sunglasses, layers of clothing, closed toe "active" footwear (no high heels), camera, binoculars, and a sense of adventure! Trip may be cancelled due to weather, or other safety concerns, at discretion of the captain.
San Francisco Maritime National Historical Park includes a magnificent fleet of historic ships, Visitor Center, Museum, Aquatic Park Historic District, and library. The park offers both regular programs and special events. For more information call 415-447-5000 or visit the park's website at http://www.nps.gov/safr  Images are available at http://www.nps.gov/safr/photosmultimedia/photogallery.htm
# # #
  5-23-13