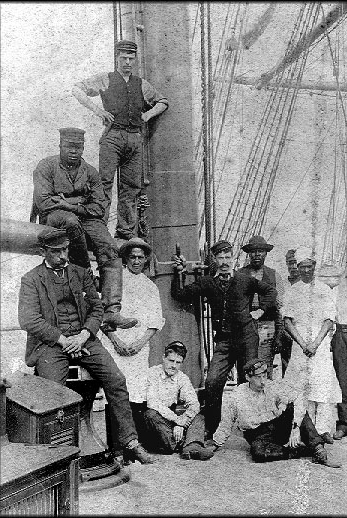 News Release Date:
January 9, 2008
Contact: John Cunnane, 415 561 7170
African Americans have played a major role in our maritime history. From the earliest days of our nation to modern times, African Americans have built, crewed, and captained ships, fought in wars, invented shipboard tools, and helped develop maritime music. San Francisco Maritime National Historical Park celebrates African American History Month throughout February with programs for the whole family.
William Shorey: Whaling Ship Captain.  Sundays, February 10 and 24, 1:00pm-1:30pm.
In the Visitor Center Theater, 499 Jefferson Street
Ranger Carol Kiser presents an audio-visual program on the extraordinary life of William Shorey, the only Black whaling ship captain on the West Coast. No fee. (Program developed by Timothy G. Lynch, Ph.D., Assistant Professor of Maritime History, California Maritime Academy.)
Chanteys: The African American and Caribbean Connection.
Saturday, February 23, 3:00-3:45pm.
Aboard Balclutha, at Hyde Street Pier
Join park ranger Peter Kasin and park volunteer Richard Adrianowicz in a program of African American and Caribbean based work songs of sailors, dock workers, and fishermen. The choruses to these chanteys are easy to sing and participants are encouraged to sing along. Ship's admission, $5. Under 16, free. Free with National Park passes.
Maritime Routes of the Underground Railroad. Sunday, February 24, 2:00-2:45pm
In the Visitor Center Theater, 499 Jefferson Street.
Learn about African enslavement, the Middle Passage, the slave trade between Europe, Africa, and the Americas, and stories of escapes by ships as routes to freedom. Guy Washington presents a 45-minute audio-visual program on this compelling aspect of Underground Railroad history. No fee.
African Americans in the Maritime Trades: A Photographic Exhibition
Daily, throughout February, at Hyde Street Pier
View rare photographs and learn about African American officers, sailors, cooks, longshoremen, and shipbuilders.
San Francisco Maritime National Historical Park is located at the west end of Fisherman's Wharf in San Francisco. The park includes a magnificent fleet of historic ships, visitor center, maritime museum (closed for renovation), and library. For more information about the park and programs, please call 415-447-5000, or visit the park's website at   https://www.nps.gov/safr.