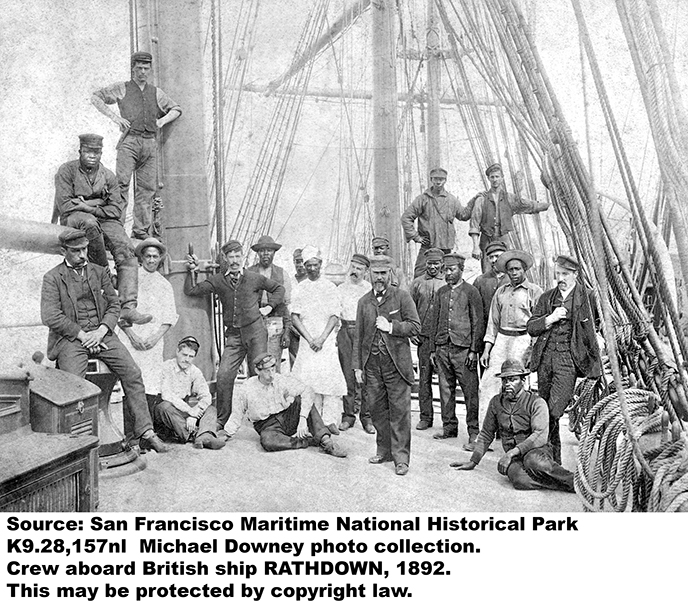 News Release Date:
January 21, 2015
Contact: Lynn Cullivan, 415-561-7006
Throughout February (specific dates below). Free admission to Visitor Center and photo exhibit. Admission for historic ships: Adults $5, Ages 15 and under free (with adult supervision). 
Join San Francisco Maritime National Historical Park (NHP) in celebrating African American History Month with special programs and exhibits for the whole family. African Americans have played a major role in maritime history – from the earliest days of our nation to modern times, they have built, crewed, and captained ships; fought in wars; invented tools; and created maritime music. Special programs include: 
The Great Migration in Alaska: African Americans, the Alaska Packers Association, and the Politics of Race at Sea, 1896-1929
Sundays, February 1, 8, and 15, 2:15pm, aboard Balclutha, Hyde Street Pier. 
In 1920, more than 300 African Americans signed contracts to work in Alaska's salmon industry and voyaged north aboard the Star of Alaska (Balclutha) and similar ships. These men were part of the early wave of the Great Migration from the South, and we invite visitors to explore their experiences.
The Saga of Black Whaler Captain William Shorey
Saturday, February 14 and Sunday, February 22, 3:00pm, Visitor Center, 499 Jefferson Street. 
A ranger-narrated slide show will introduce visitors to the extraordinary life and accomplishments of the only black whaling ship captain on the West Coast.
Chanteys: The African American and Caribbean Connection
Saturday, February 7, 3:00-3:45pm, aboard Balclutha, Hyde Street Pier. Wheelchair accessible.
Discover African American and Caribbean-based maritime work songs in this ranger and volunteer-led program singing chanteys of sailors, longshoremen, oarsmen and fishermen. Everyone is encouraged to sing along to the easy choruses of these work songs. 
African Americans in the Maritime Trades: Historic Images and Stories
Throughout February, 9:30am-5:00pm, Visitor Center, 499 Jefferson St. Wheelchair accessible.
View rare photographs and learn about African American and Caribbean officers, sailors, cooks, longshoremen and shipbuilders.
San Francisco Maritime NHP is located at the west end of Fisherman's Wharf in San Francisco. The park includes a magnificent fleet of historic ships, Visitor Center, Maritime Museum, Maritime Research Center, and Aquatic Park Historic District. For more information, please call 415-447-5000 or visit nps.gov/safr and facebook.com/SanFranciscoMaritimeNHP.  
### 1-20-15