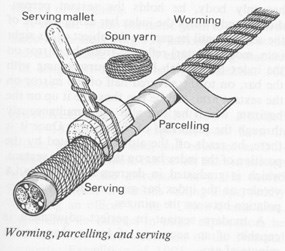 From, The Oxford Companion to Ships and the Sea, edited by Peter Kemp, Oxford University Press, 1976.

Rope is wormed, parceled, and served to protect it against the wet, which is liable to rot it.

Worm: The operation of passing a small rope spirally between the lay of a hemp cable.

Parcel: The operation of winding strips of tarred canvas round a rope after it has been wormed.

Serve: The operation of winding spunyarn close round a rope which has been wormed and parceled and using a mallet to obtain maximum tension.