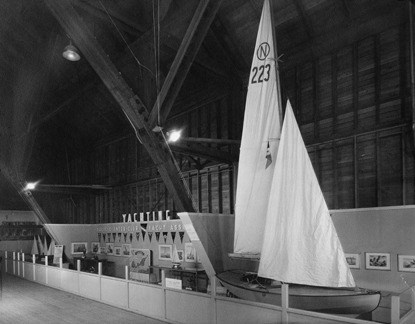 Seventy-five years ago William Crosby, editor and yacht designer, published the complete plans and instructions for his new "National One-Design" class racing sloop in the January 1937 issue of the
Rudder
. Published during the Great Depression when yachting was a rich man's sport, the simple and elegant lines of Crosby's National One-Design allowed amateur backyard boat builders and small commercial boat yards to create speedy and stable yachts particularly suited for inland waters for an estimated cost of $200. This new class of racing sloop, rooted in the Snipe class Crosby had designed two years earlier, was characterized by a shallow hull with a narrow and deep centerboard, an inboard rudder, a lofty rig with a high aspect ratio sail plan, a moderately beamy hull overhanging a hard chine, and a sweet sheer. These characteristics enabled the National One-Design to sail exceptionally close to the wind with excellent maneuverability and stability and made the new class swift, graceful, faster, and more responsive than other boats of the day. In addition, the National One-Design foreshadowed the much larger 12-meter yachts that revitalized America's Cup racing in the 1950s.
During 1937 the Palo Alto Boats Works, owned by John and Pete Gambetta constructed a National One-Design sloop for Professor Smith of Stanford University. The sloop, named Mab, displayed exceptional workmanship. The highly-finished joinery and unusual quality of care and craftsmanship earned the Mab an invitation to be a featured part of the 1939 yachting exhibit at the Golden Gate International Exhibition held on Treasure Island.
Around this same time, Pete Gambetta repurchased the Mab and spent the next 30 years sailing her on San Francisco Bay. His daughter, Barbara, sailed the sloop to victory in races sponsored by the Palo Alto Yacht Club in 1945 and the Sequoia Yacht Club in 1946.