Donkey Steam Engine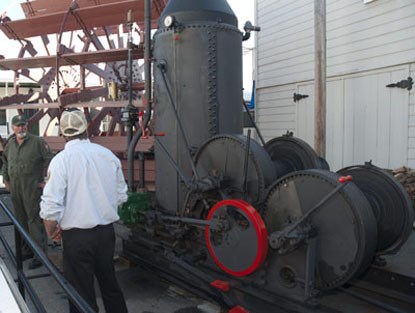 Donkey engines, like the one at the entrance to Hyde Street Pier, were common along the waterfront from the 1880s into the 1920s. These portable steam winches were used as auxiliary power for loading and unloading cargo.
The name "donkey" comes from the fact that these engines replaced horses as a power source for cargo handling. The term was also applied to similar engine and boiler units carried aboard ship.
Donkey engines were also employed in construction work and in lumbering and mining. This engine was used until 1968 aboard a derrick barge belonging to the Port of Oakland.
The engine had not produced steam lately because the tubes in the boiler needed to be replaced. So, during the 2011 summer, park employees and volunteers, lead by Erik Olson, (aka Mr. All-Things-Steaming) fixed it.
They carefully dismantled the boiler from the engine frame, cut out the old, corroded tubes, and rolled (installed) 96 new ones. Volunteer Extraordinaire Ed Neubuer accomplished most of the retubing work. The boiler was then filled with water and put through a hydrostatic test to check the seals around the tubes-only one tube needed to be fixed. After some cleaning and painting work the engine is once again up and running for park visitors to see it in action. When you hear that whistle, you'll know we're steaming!
We fire-up our donkey engine using wood to heat water in the boiler to create steam. The engine propels an adjacent winch and powers an awesome, ear-splitting whistle atop the boiler that is heard throughout Fisherman's Wharf. So loud in fact it was painful, so an employee found a quieter model that we now use.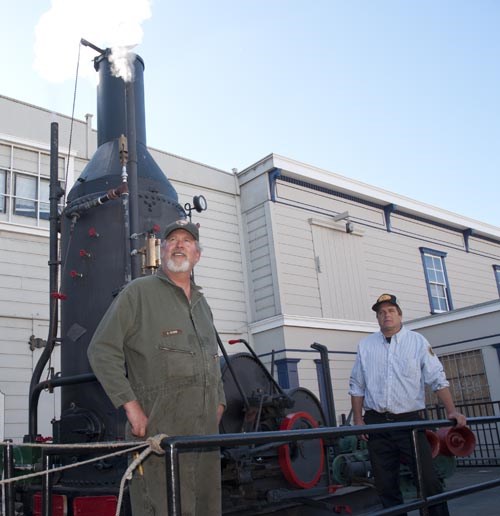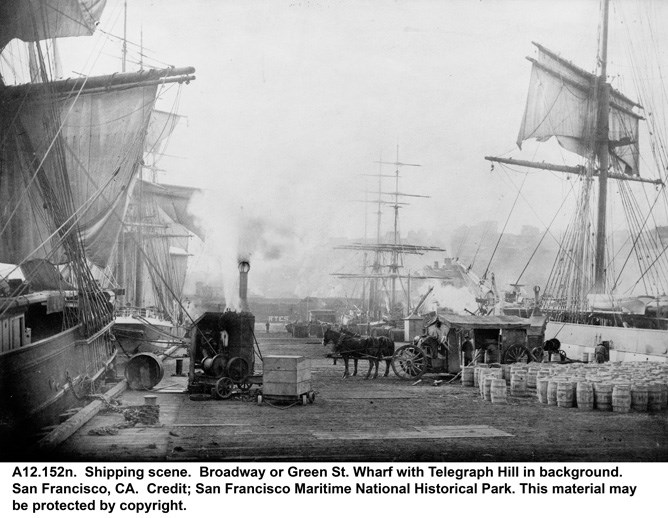 Last updated: December 8, 2017