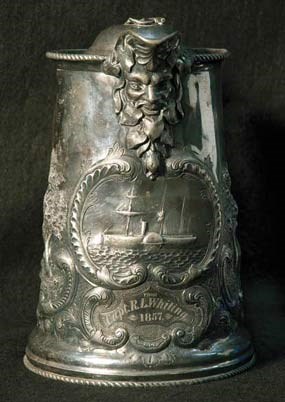 By Diane Cooper, Museum Technician

The park maintains a large collection of artifacts and archival materials. Each artifact, document, or photograph has a story to tell and offers insights to our past. Through the study of the physical objects people created and endowed with meaning, we have the opportunity to gain a greater understanding of our past and how it shapes our present-day.

With each new donation, a new piece of a giant jigsaw puzzle is found and fit into place, revealing a bit more of the historical picture. One recent donation that we are fitting into our puzzle is an ornately decorated eleven-inch-high silver pitcher that was crafted during the mid-nineteenth century and the early days of California statehood (1850).

The pitcher is decorated with waterfront scenes along the sides and a detailed relief image of a steamship from the Pacific Mail Steamship Company on the front. Below the steamer, "From Capt. R.L. Whiting 1857," is inscribed. The Pacific Mail Steamship Company started just as gold was discovered in California (1848) and grew along with the city of San Francisco. The Pacific Mail steamer SS California arrived in San Francisco Bay in February 1849, loaded with mail from the East Coast and over 350 gold seeking passengers, becoming the first steamship to pass through the Golden Gate.

Among the crew members was First Officer Richard L. Whiting who was later promoted to captain and commanded several of the Pacific Mail steamships. Whiting settled in San Francisco, marrying and raising a family in the city's South Park district. A distinguished captain and beloved member of his community, the city lowered its flags to half mast when he died suddenly on January 31, 1861.

So how does this silver pitcher fit into our historical jigsaw puzzle? Initially, this piece offers a tangible glimpse into the Pacific Mail Steamship Company. Captain Whiting held a prestigious position within the company. Perhaps the cup was presented by him to some unknown person in recognition for an heroic deed. We just do not know, but we will continue our search for the missing puzzle pieces that surround this pitcher. For now, however, it has forged a small silver link to our golden past.