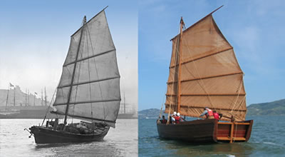 Grace Quan: A San Francisco Bay Shrimp Junk
The Grace Quan is a 43-foot replica of a San Francisco Bay Chinese shrimp fishing junk.
Between 1860 and 1910, these were the workhorses of the Bay Area's Chinese–owned dried shrimp industry. The San Francisco Bay Shrimp Junks closely resembled vessels from the fishermen's home waters in Guangdong Province, China.
Most carried a single, five-batten lugsail, a rig that is both efficient and easy to control. The junks also featured a daggerboard forward of the mast, and a rudder which could have its depth adjusted. The diamond-shaped holes in the rudder serve to ease weather helm, or strain on the tiller.
When wind was calm, the fishermen could use oars, rowed from the bow, and a long sculling oar, called a "yuloh," worked from the stern.

BASIC FACTS:
Length: 42 ft. 3 in.
Beam: 10 ft. 4 in.
Draft, daggerboard, rudder down: 5 ft.
Draft, daggerboard, rudder up: 1 ft.