The Grace Quan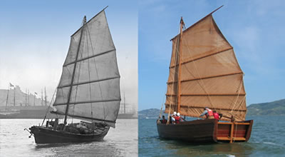 Grace Quan: A San Francisco Bay Shrimp Junk
The Grace Quan is a 43-foot replica of a San Francisco Bay Chinese shrimp fishing junk.
Between 1860 and 1910, these were the workhorses of the Bay Area's Chinese–owned dried shrimp industry. The San Francisco Bay Shrimp Junks closely resembled vessels from the fishermen's home waters in Guangdong Province, China.
Most carried a single, five-batten lugsail, a rig that is both efficient and easy to control. The junks also featured a daggerboard forward of the mast, and a rudder which could have its depth adjusted. The diamond-shaped holes in the rudder serve to ease weather helm, or strain on the tiller.
When wind was calm, the fishermen could use oars, rowed from the bow, and a long sculling oar, called a "yuloh," worked from the stern.

BASIC FACTS:
Length: 42 ft. 3 in.
Beam: 10 ft. 4 in.
Draft, daggerboard, rudder down: 5 ft.
Draft, daggerboard, rudder up: 1 ft.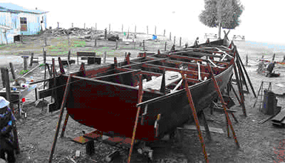 The Grace Quan was built by a team of National Park Service volunteers and staff in the summer of 2003 at China Camp State Park, the site of one of the largest of the historic Chinese shrimp fishing villages in San Rafael.
The design for the Grace Quan was derived from historic photographs and archaeological information. Traditional materials such as redwood planking, forged nails, and caulking made from lime and linseed oil, were used by the boatbuilding crew, as were traditional Chinese boatbuilding techniques such as bending wood with fire, and nailing planks to each other along the plank seams.
The cotton canvas sail was treated using the traditional method of boiling the newly made sail in a vat of hot water and the crushed dried bark of tanbark oak trees.

BASIC FACTS:
Keel, Planking, Frames, Decking: Redwood
Mast, Stem, Thwarts, Oars: Douglas Fir
Date Keel Laid: April 24, 2003
Date Vessel Launched: October 25, 2003
Last updated: December 8, 2017