Kenichi Horie and the MERMAIDS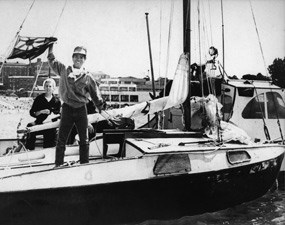 By Stephen Canright, Park Curator, Maritime History
San Francisco Maritime National Historical Park is proud of its association with Kenichi Horie, Japan's most famous yachtsman, and the first man in history to make a non-stop solo crossing of the Pacific Ocean.
As a gesture of his affection for the City of San Francisco, Mr. Horie donated two of the small sailing boats most closely associated with his adventurous career to the park's permanent museum collection.
Kenichi Horie is regarded as a Japanese National Hero, and we are most pleased to bask in a small reflection of his glory. Mr. Horie was an unknown 23-year-old when he sailed his 19-foot black plywood sloop, the
Mermaid
, through the Golden Gate in 1962. His arrival was entirely unannounced. He had, in fact, left Japanese waters without any form of official clearance. Ninety-four days later, he arrived in San Francisco with no passport, no money, and little knowledge of English. Horie was briefly arrested, but Mayor George Christopher saw to it that he was released and presented with a visa and the key to the city.
The little
Mermaid
was shipped back to Japan, but was later returned to be displayed at the Maritime Museum. It was
shown for many years
on the
veranda of the Museum
, and became a must-see attraction for Japanese tourists in the 1960s and '70s.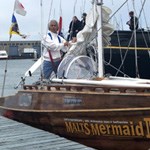 Mr. Horie
, by now well-known and well-supported by sponsors, continued with his voyaging, delivering messages of environmentalism, conservation, and recycling to ports of call around the world. In 2002, he made a second trans-Pacific voyage, in a boat modeled after the original
Mermaid
, but built entirely of recycled materials. The
Malt's Mermaid III
would ultimately join its older sister in the park's museum collection. Both boats are currently in storage, but we hope to exhibit them side by side in the future.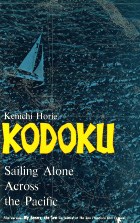 Please click here to go to a page created by our librarians. Our relationship with Mr. Horie began with his historic voyage to our city, arriving in San Francisco on Sunday, August 12, 1962, and those of us working in Collections are honored to preserve and make available for research the many items associated with Mr. Horie.

Last updated: March 1, 2015