Kaiulani Logbooks Discovered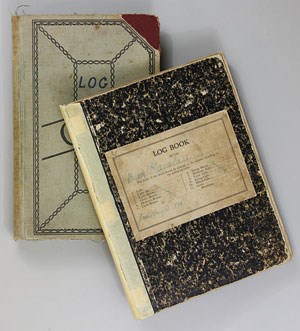 BY EDWARD LeBLANC, ARCHIVES SPECIALIST (former)

A ship's logbook is a daily journal on the condition and location of the vessel, weather reports, and the daily activities of the crew. In some cases, accounts of a crew's insubordination and jailing are made. Captain H. G. Wigsten kept such a journal for a trip from Aberdeen, WA to Durban, South Africa to Hobart, Tasmania as master of the Kaiulani, a three-masted sailing vessel built in 1899. The handwritten journal in two volumes was part of the recently donated Harold D. Huycke collection. Huycke was one of the foremost maritime historians with a special interest in the last voyages of commercial sailing vessels in the late 19th and early 20th centuries.

The logbooks date from 1941-42, very late in the century for a commercial sailing vessel to be operating. With the onset of World War II commercial vessels of any kind were in short supply and the Hammond Lumber Company of San Francisco had a load of lumber in Aberdeen, WA that needed to be delivered to Durban, South Africa. Kaiulani was pressed into service after having been idled for several years following a career in the Hawaii sugar trade and, under the name Star of Finland, in the Alaska salmon trade.

Sailing under the flag of Panama, this was the last American crew to sail around Cape Horn in a commercial square-rigged sailing vessel. The 20 men included two notables who later were early pioneers of San Francisco Maritime NHP: Karl Kortum, founder, chief executive and curator; and Harry Dring, conservator of ships.

In the logbooks Captain Wigsten describes inclement weather, repairs to the sails and vessel, and a couple of medical emergencies including the Captain's contraction of a skin infection. He also describes with candor his increasingly acrimonious relationship with the crew that resulted in the men being jailed for desertion. Here are but a few entries from the 1942 log while the ship was at Hobart:
 - August 19, Wednesday, 6:45 a.m. "I went forward to crews quarters and informed them of the situation that ship had to be moved out to anchorage in stream, which they all refused to do…Navy people came aboard and Navy vessel alongside…Ship's crew in meantime put all their baggage on to the wharf and deserted ship."
 - August 24, Monday, 12:30 "All of deserters taken into custody by military and locked up."
 - September 22, Tuesday "The 10 deserters released by Court on grounds that I had not reported desertion in writing to Navy Commandant instead of to the military. So therefore it was not desertion, although crew threw all their baggage on to the wharf and walked off the ship at about 7:30 a.m. in front of Navy people and everyone else on the wharf."
 - September 23, Wednesday "About 11 a.m. crew with their baggage brought out to vessel by Navy launch."
 - October 6, Tuesday 1:30 p.m. "American flag hoisted. All agreement with USA Army representative Major Lindsey signed up." 6:40 pm "Anchors away - departure" From Hobart, Kaiulani was towed to Sydney and converted into a barge.

Kaiulani was built by Arthur Sewall & Company of Bath, ME in 1899, and named for Victoria Kawekiu Kaiulani Lunalilo Kalaninuiahilapalapa, heir to the Hawaiian throne. [Lyman, John "The Last American Square Rigger", Mast Magazine, June 1950].

The collection contains another Kaiulani logbook kept by Capt. R. Kabel during a 1900-02 voyage from Bath, ME to Honolulu. The logbooks are available for viewing at the Maritime Library in the Harold D. Huycke collection, HDC 1600; SAFR 22224, Series 3.01; files 100, 102. An additional reference source is at the Online Archive of California, www.oac.cdlib.org. Further information for this article was found in HDC 1600 Series 3.02, Kaiulani, Allan K. Hulme records.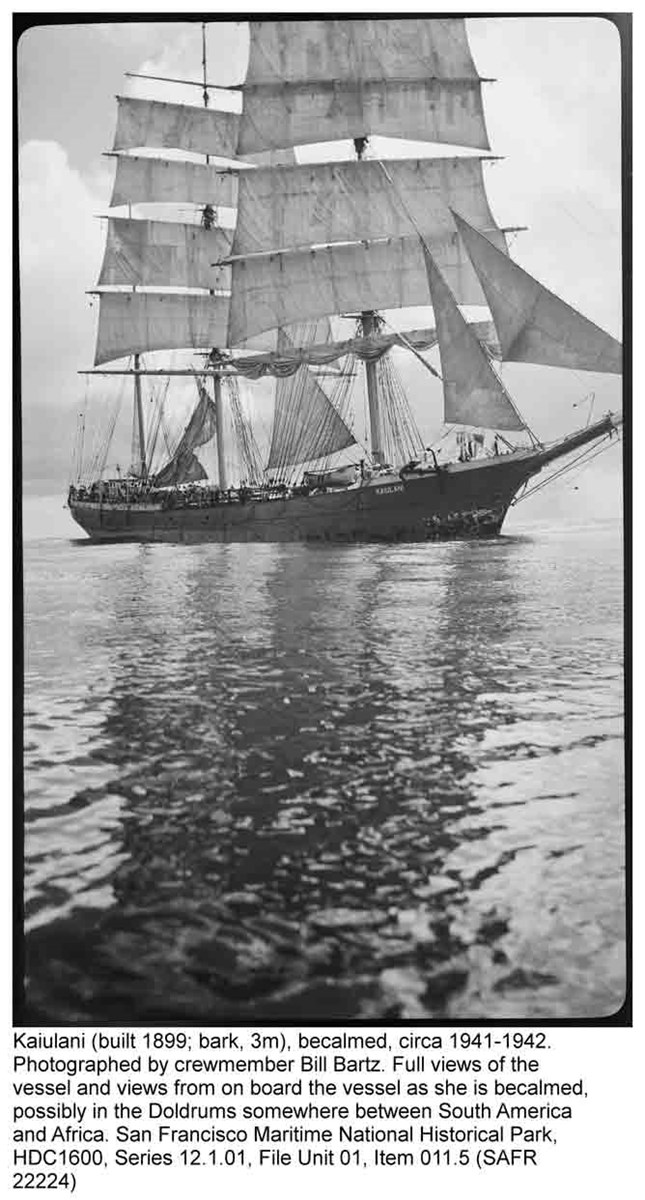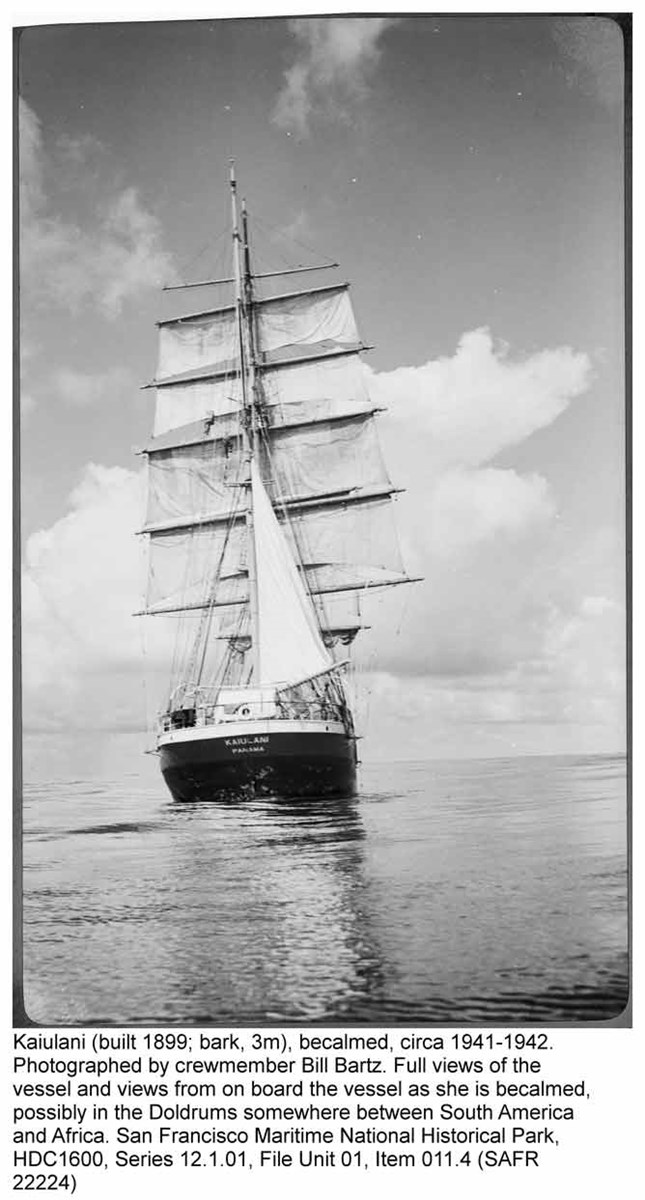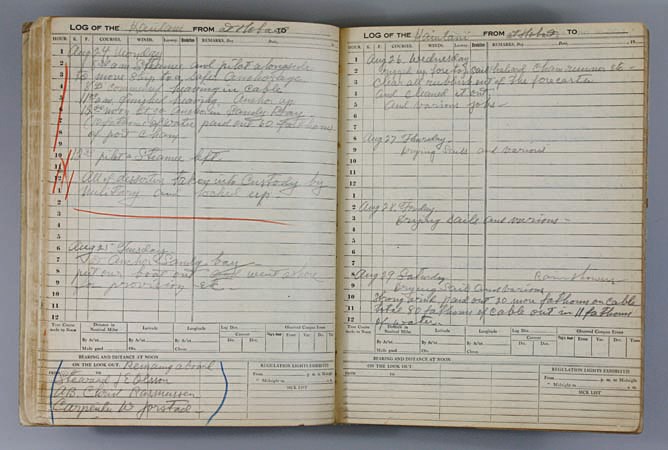 Last updated: October 14, 2015