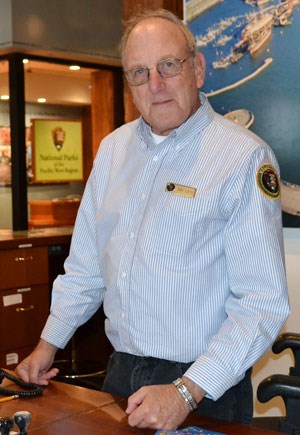 A Volunteer's View of the Visitor Center

By David Curtiss, Park Volunteer

With 35 years of sailing experience behind me, we finally sold our sailboat. That same day I announced to my employer that I was retiring. The costly hole in the water was no more. Yet, one of my bucket-list items was to stay involved with sailing and what better place for this frustrated history major to use an academic, as well as a sailing background, but by volunteering at the park's Visitor Center (VC).

I was soon working in the VC behind the information desk and thinking what a great match. It has been, but not in the way I thought it would be. I've discovered "Visitor Center" to park personnel means a well thought out information resource and exhibits setting. The words "visitor center" to people who drop in means we represent San Francisco. I needed to develop my conceirge skills to supplement my nautical knowledge. For several weeks I have been keeping a list of what people most frequently ask me at the desk. At the top of the list: Bathroom, bathroom, bathroom…where is it??? How to get to Alcatraz, the Golden Gate Bridge, Pier 39 and the sea lions, the cable car, and Ghirardelli Square? What should we do here? Why is it so cold and windy? Where do I stamp my National Park Passport? What should we do in San Francisco? I like this question as it gives me a chance to point them in the direction of the pier and talk about the park.

Each time I volunteer I have at least one different experience. I've also been keeping track of some of the stranger questions I get: "Where can I buy a used fish net?", "Please call the police, someone is following me.", "Where can I park my 35-foot fifth-wheel that is next to the building? It's a national park, after all.", and "Where can I find out if my great grandfather sailed into San Francisco Bay in 1898?" I found that I could actually help on that one. Go to www.nps.gov/safr/historyculture/genealogy-research-at-sf-maritime-nhp.htm or call the Maritime Library, 415-561-7030.

So why do I return? I enjoy the people. Each week it seems there is a different group. One week everyone seems to be from Wisconsin. The next, it's Taiwan, Germany, Florida, or San Diego. It's fun to get them talking about where they're from and their view of San Francisco. In the process we often end up talking about the park. Sometimes a visitor will linger like when a former merchant marine sailor shared his thoughts about the changes that he had seen after a lifetime at sea.

And, at least several times a day, someone will come by the desk, their eyes alive, and say, "What a great exhibit!" They are referring to The Waterfront exhibit in the back-half of the VC. When I ask what they liked, some have trouble putting it into words, but one person summed it up by saying, "It's like I was there!" And then there's the little boy from Thailand who asked if we had a pirate ship. I directed them out to the pier and Balclutha served as a viable substitute and seeing him run from bow to stern, his father in tow, meant that he too got what he wanted from visiting the park.

For information about volunteering call 415-561-7160 and visit www.nps.gov/safr/supportyourpark/volunteer.htm.