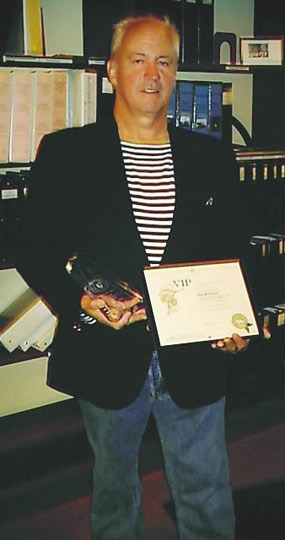 David Hirzel received the NPS Pacific West Region Individual Volunteer Award for 2007.
David is a long-time volunteer with the park and spends the second Saturday of most months on Hyde Street Pier as a member of the Living History group. This group of dedicated volunteers bring Hyde Street Pier to life as it was in 1901 wearing period costumes.
Chips, as David is called in his role as a 19th century sailor, is also the group's leader. He received this distinguished award for the energy, enthusiasm, and leadership he brings to the Living History group.
The George B. Hartzog, Jr. Awards for Outstanding Volunteer Service were established in 2002 to recognize the commitment of the Service's most outstanding volunteers. During his nine years as Director of the NPS (1964-1972), George Hartzog created the Volunteers-In-Parks (VIP) Program, which was born of the need for more qualified personnel at a time when national parks were becoming increasingly popular.