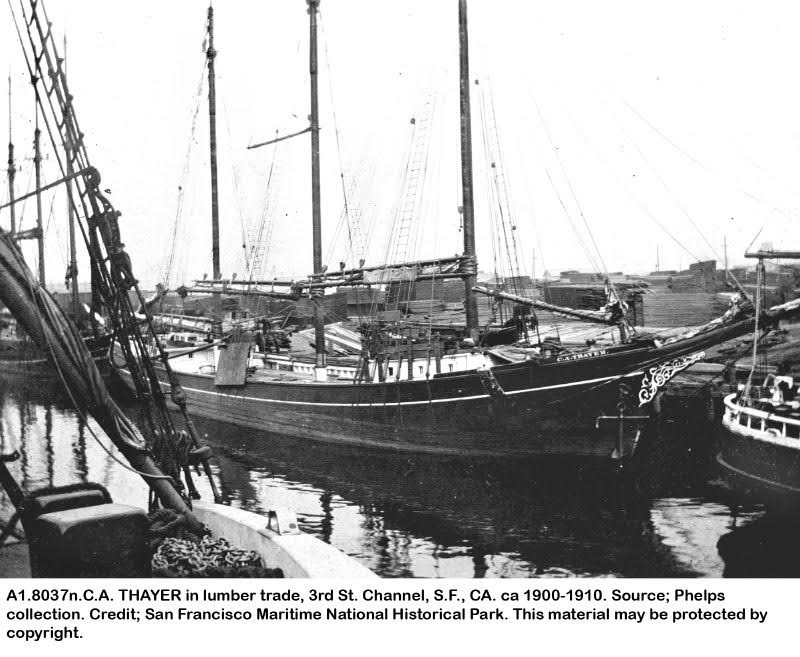 Image of C.A. Thayer's lumber loading gear, like the gaff midway up the main mast and what looks like a ramp for sliding lumber, or possibly a fender to protect the shrouds.
At San Francisco Maritime National Historical Park, we are often asked about the ongoing restoration projects that occur on our fleet of historic ships and whether vessels like the C.A. Thayer will sail again as a result of the modifications. While we have optimistic hope that Thayer will one day go out on the bay for an occasional special event, that is not the primary objective for the restoration work.
Generally for historic structures, items like ships have a period of significance which is defined as, "...the span of time during which significant events and activities occurred." The structure's configuration during the period of significance is the reason that makes it important and why we keep it. Ships over a century old have had many careers. While each iteration is valuable, the primary reason a vessel becomes a National Historic Landmark (like Thayer, and Balclutha, and Eureka, and Hercules, and Alma) is often its original career. In C.A. Thayer's case, she was built to be a lumber schooner on the West Coast of the United States, and this entails several noteworthy features:
The hull and rig design were pretty specific to this coast. Lumber schooners had a reasonably shallow draft to get over the sandbars off the entrances of many west coast ports and into the "dogholes" where lumber was loaded. Thayer also had relatively light purchase tackles for running rigging, since she was fitted with a steam donkey engine at launch to help handle loads, and keep the crew down to about seven people.

The hull is nearly entirely built of Douglas fir, a softwood, something unheard of on the East Coast, but a common development on the west coast because those were the primary trees here.

Many of these vessels were designed to sail with no ballast or cargo on the trip back up north, again, unheard of in other parts of the world.

Hans Bendixsen, the builder and designer of Thayer, was one of the people who pioneered these typical west coast features.
As such, our goal is to restore C.A. Thayer to return her to the way she looked in 1895, when she was first launched. These items from her period of significance also explain why any fittings, features, or gear from her later salmon or codfishing careers have been removed. The schooner wasn't built for those jobs, so they have less importance in her restoration (although they are important points to discuss in why she is still around and how she was used over time). 
Tip: If you would like to go out on the Bay (and we absolutely think you should),
check out the Alma sailing program
! Alma is an 1891 scow schooner that has had minor modifications allowing her to meet the U.S. Coast Guard requirements for sailing excursions.