Have you met one of San Francisco's oldest and most infamous residents yet? You will find that this particular resident is usually chilly and a little wet. You can watch it creep over the land and water, blocking the sun and covering up your view. Sailors dislike it, but some plants need it...Yes, I'm talking about FOG!

Whether or not you like fog, it is simply a part of the city, along with the steep hills, barking sea lions, and diverse cultures. Many of the plants here have adapted to the fog and use it as a source of water.  
The San Francisco fog can also be something to admire and inspire.

Listen to the wonderful Judy Garland sing the song "Foggy Day," about another foggy city - London.     

http://tinyurl.com/garlandfog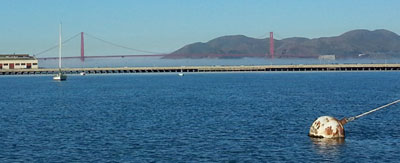 Now you see it.


Now you don't.
"Foggy Day" lyrics:
A foggy day,
in London town,

it had me low, 

and it had me down

I viewed the morning, 

with much alarm, 

the British Museum,

had lost its charm

How long I wondered, 

could this thing last,

but the age of miracles,

it hadn't past

And suddenly, 

I saw you standing right there

And in foggy London town, 

the sun was shining everywhere.