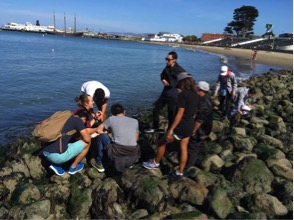 Community BioBlitz in progress on National Public Lands Day September 30, 2017

On any given morning in Aquatic Park Cove, you can see a number of organisms moving about the harbor. However, the biodiversity most mornings is somewhat limited; a herd of harbor seals, a flock of assorted sea birds, and the ever-faithful human contingent from the historic swim clubs. Through my internship with American Conservation Experience, I learned that with some planning there are select mornings when the variety of observable life significantly increases. That said, to see it all, you'll need to look a little closer and be prepared to get a bit wet!
From a biological standpoint, the California rocky intertidal habitats are some of the richest and most diverse in the world.  There are over 1,000 organism species that can be found in these intertidal zones across the California and San Francisco Bay shorelines. An intertidal zone is any area that is covered by water when the tide is higher, but is exposed to the open air during the lower tide. This is the sweet spot! Steadfast rocks are an invaluable infrastructure for many organisms that call the intertidal home; some go so far as literally cementing themselves to those rocks for life. The constant state of flux makes the rocky intertidal zone a challenging habitat and it favors the adaptable.
In Aquatic Park Cove, the zone starts at the west end of the beach and extends all the way down along the boundary wall to Municipal Pier. It's a neat little ecosystem, and like most of the California intertidal communities, the organisms we find are smaller algae and invertebrates; things like clams, snails, crabs, and barnacles. Making sense of what you see can be difficult. Organisms that evolved to fit marine environments can look downright alien!
To identify such organisms, curious researchers used to carry around specific books or work with an expert naturalist to identify unknown creatures. As with so many other things, new technology has completely evolved this practice. A website and mobile application, called iNaturalist, run by California Academy of Sciences is a contemporary way you can explore these complex ecosystems.
The mobile app offers you a network of naturalists and identification resources right at your fingertips. Take a picture on your smart phone and the app automatically suggests what the organism may be. If none of those options seem correct, you can finish uploading your observation and other users can help identify the creature. After the identifications are confirmed, your observations become valuable data; both for the casual user and scientists tracking species populations. The ease of this app has contributed to an increase of group naturalist events, called "BioBlitzes," including two we hosted at the park this year.
At the BioBlitz events, rangers and members of the public attempt to record all the living species within a designated area. BioBlitzes are supremely valuable to biodiversity data collection. Recording all species at a specific time and place gives insight into seasonal population changes, threatened species counts, migratory patterns, and the presence of potentially harmful invasive species.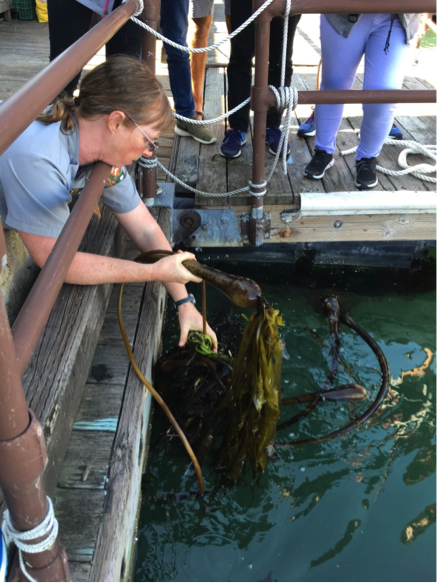 Ranger Rejane Butler showing an invasive species of kelp at the small boats docks of Hyde Street Pier

Invasive species are organisms that are not native to a habitat and which often throw off the balance of the entire ecosystem. They can be introduced to their new habitats a variety of ways, but one of the most common for marine invasives is "hitchhiking" on ships. Often the invasive species are stored the ships' ballast water in one location, and discharged in another location across the world. For example, the Asian Clam, which has reshaped the Bay Delta estuary ecosystem, was likely brought here in the belly of a cargo ship. The Asian Clam's presence was not noted in force until the mid-1980s, so we can confidently say that none of the historic ships at Hyde Street Pier had a hand in delivering that particular scourge to the Bay.  However there is no doubt that our park's vessels brought other unwelcome tag-a-long invasives from distant ports during their 19th and early 20th century careers.
Take note of the tides the next time you plan a visit to Aquatic Park. If the tide low, it's worth downloading iNaturalist to make your own observations. A word of advice: Work cautiously (the rocks can be uneven and slippery) with a buddy to look in between and underneath the rocks. Remember you are exploring the habitat of particularly vulnerable organisms-- so be gentle and watch your step!