Every morning during the summer kayaking program, staff check the wind speed, temperature, and tides. They also write up a float plan and haul out emergency blankets, splash pants, binoculars and kayaking gear. Last, but certainly not least, they set up small changing room tents near the beach for guests.
Why go through all of these steps? For the past four summers, San Francisco Maritime National Historical Park, in partnership with San Francisco State University's Summer Youth Sailing and Paddling program, host a month-long kayaking program. In fact, the joint effort begins well before the summer. Since early winter, the team worked to identify and invite a range of community groups from San Francisco and the East Bay. "We try to provide access to healthy aquatic recreation and environmental and science education for all youth, regardless of physical ability or family income. We provide full scholarships, for the three-hour introductory kayaking class at Aquatic Park, to non-profit community groups who serve low-income youth, non-traditional park users, disabled kids, and kids at risk," says Professor Patrick Tierney of SF State.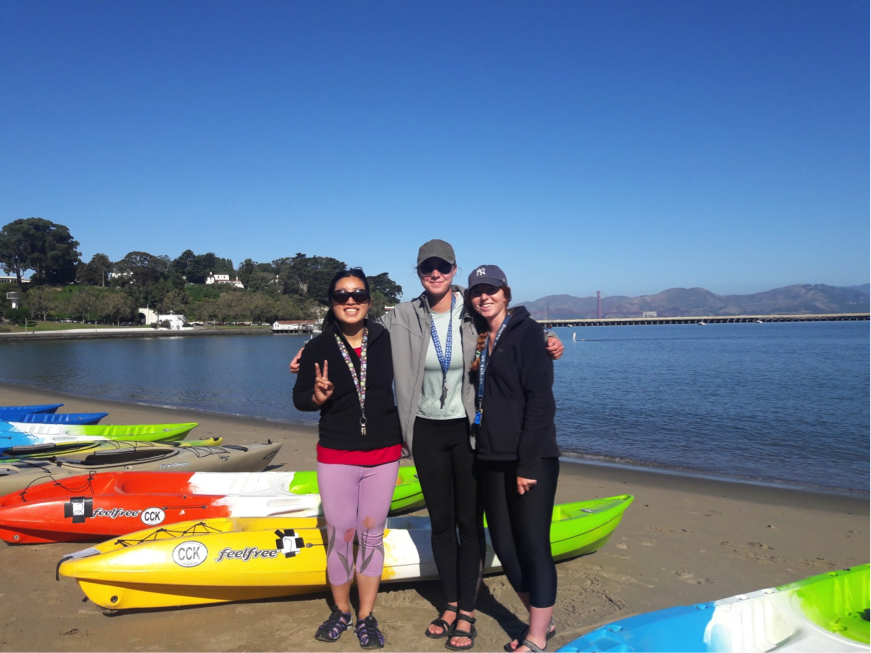 From left to right, San Francisco State kayak instructors Sandy Jiang, Lia Monaco, and Jeniann Hodash.
Lia Monaco, the lead kayak instructor, a Recreation, Parks and Tourism major at SF State, has been kayaking since she was a child. To her, Aquatic Park Cove offers a dynamic contrast, with its diverse wildlife and complex ecosystem, compared to other local spots. "The best part of my job is seeing the kids' faces after a successful kayak outing." Tomas Boatwright, senior case manager at Huckleberry Wellness Academy, enjoys leading his students through exploratory adventures in Aquatic Park Cove. He encourages young people to expand their comfort zones in hopes they experience a positive challenge from kayaking.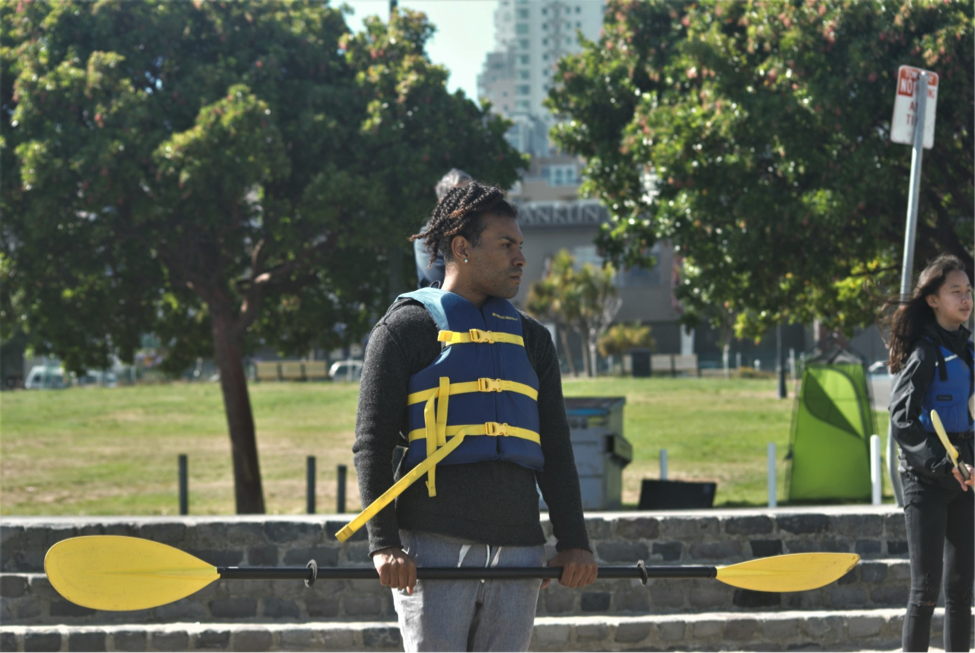 Tomas Boatwright, chaperone and senior case manager, modeling a good example for the kids
On this particular morning, the team eagerly awaits their first group of summer kayakers: ten young people and two chaperones from Huckleberry Wellness Academy. At their initial training session on the beach, the young paddlers appear timid with their gazes averted downwards. Fast-forward 20 minutes and the teens' transformation became obvious. Out on the water, they maneuver their kayaks to form a 'V' and round the historic schooner, Alma. They radiate strength and poise, like a flock of ducks moving confidently in unison. Through training and mentorship, these kayakers became energetic, positive, and empowered. They faced their fears and learned that they can accomplish their goals –on and off the water.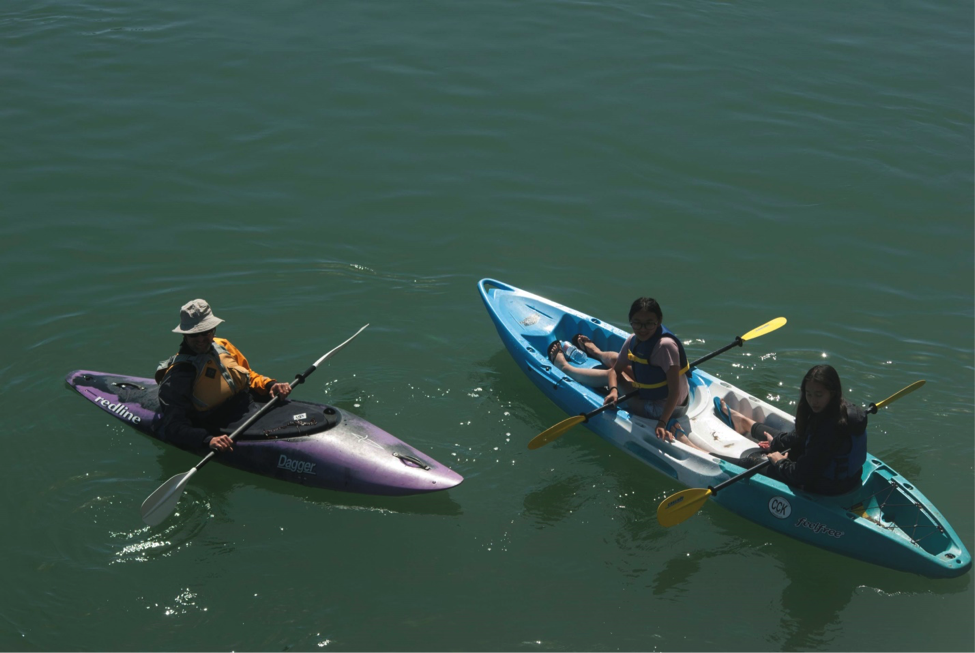 Professor Patrick Tierney soaking up the sun with students from Huckleberry Wellness Academy
Professor Tierney mentioned that the main objective of this program is simply for the kids to have fun. From the sheer expressions of joy on thier faces, we can certainly gather that we've accomplished this mission.
We would like to thank the following organizations and groups for participating in our 2017 kayaking program: Groundwork Richmond, New Door Ventures, Buena Vista Child Care, Poder SF, Jericho Project, RPAL, Edgewood Center for Children and Families, Third Street Youth, Spanish Speaking Citizens Foundation, YES Nature to Neighborhoods, Magic Zone, Youth Conservation Corps, and Log Cabin Ranch.