Santa Fe Trail Association Newsletter
National Historic Trail Newsletters Cover:
Interpretation, Preservation, Certification, Trail Development, & Sign Projects - For Protection, Development, and Promotion of the Trail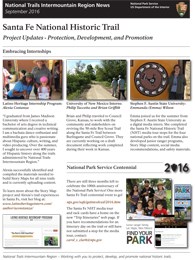 Fall 2016 - Embracing internships, NPS centennial, Salem Park waysides, Junior Wagon Master, Kansas City Area, and more.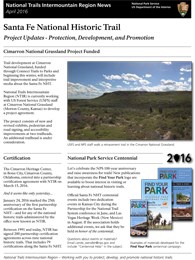 Spring 2016 - Project funding, certification, centennial, media tour short films, new signage, and a project queue for you!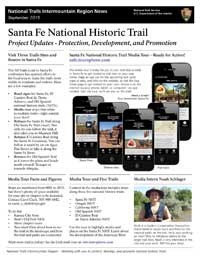 Fall 2015 - Media tours, conferences, signs, facts and figures, historic buildings research, and more.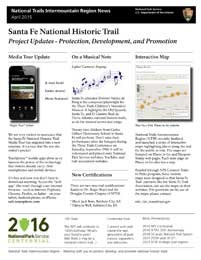 Spring 2015
- Highlights include music and exhibits; maps and tours; signs, designs, and redesigns; and centennial and certifications.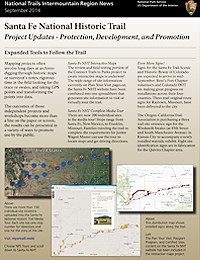 Fall 2014 - Expanded tools to follow the trail, a new look for NTIR, and certification, national register, and volunteer news.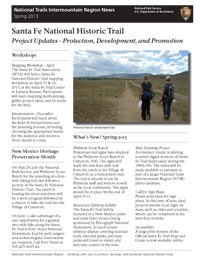 Spring 2013 - Retracement trail opens, sign and exhibit unveilings, youth program update, and YouTube site uploads.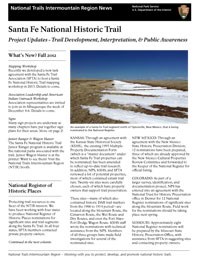 Fall 2012 - Updates on National Register nominations, sign plans, exhibits, and workshops.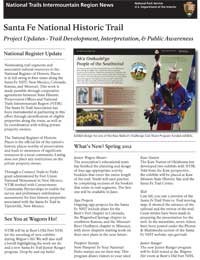 Spring 2012: Updates include new exhibits with the Kaw Nation of Oklahoma, National Register nominations, planning for the visitor experience at Bent's New Fort, and new activities for children and families.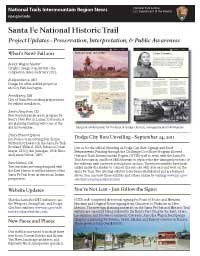 Fall 2011 - Exhibit unveilings, Rediscovery Survey, Signs, Connect Trails to Parks, Highlights, and More!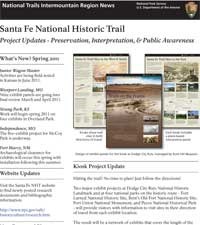 Spring 2011: Exhibit Updates, New Faces and Places, Sign Plan Released, Workshops, and Connect Trails to Parks.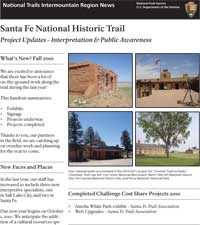 Fall 2010 - In this issue: New Faces & Places, Completed Exhibit & Sign Projects, In-the-Works Projects, New Certified Partners, Raising Awareness.
Last updated: March 6, 2019