For Kids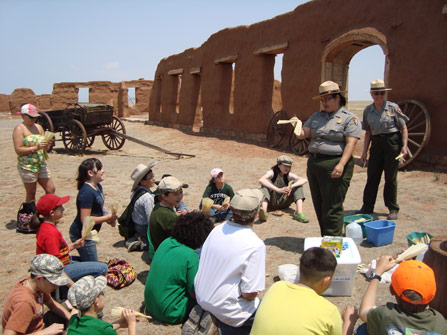 Wagons Ho! Be a Junior Wagon Master!
You can become an official Junior Wagon Master for the Santa Fe National Historic Trail! This new program helps kids and families explore the trail. You'll walk along wagon ruts, visit towns, go to museums, and maybe even see horses, mules, and oxen along the way!
Watch this Awesome Video!
El Camino Real de Tierra Adentro, the Santa Fe Trail, and the Old Spanish Trail converge in Santa Fe.
Which one goes to Missouri? Which one goes to Mexico City? Which one goes to California?
What was the purpose of each trail? Find out here!
Loading the player...
Visit JWPlayer docs for keyboard shortcuts
Duration:

30 minutes, 34 seconds
Fourth and fifth graders from Carlos Gilbert Elementary School in Santa Fe, New Mexico, perform an awesome musical covering three national historic trails: El Camino Real de Tierra Adentro, Santa Fe, and Old Spanish.



Last updated: August 25, 2016