Vets on the River Programs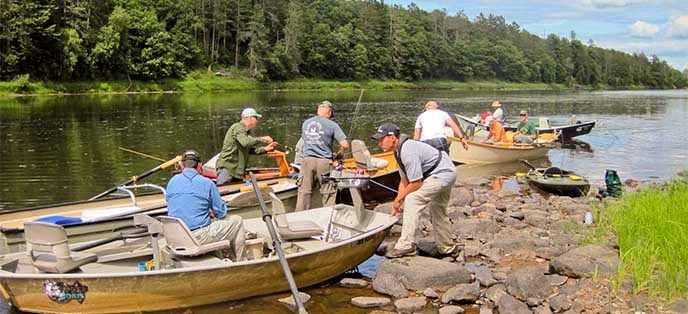 2017 Vets on the River Programs
Rivers of Recovery Guided Fishing Trips
Spend two days and three nights on a guided fly fishing trip on the Namekagon River for combat veterans.
August 28 - 31: Women's Trip

September 11 - 14: Couple's Trip

September 14 - 17: Men's Trip

Vets & Family Paddles
These are great opportunities for all veterans and their families to experience the St. Croix Riverway.
June 17: Women Vets Annual Paddle
July 9: UW Stevens Point Vets Club
July 28 - 30: UW Stout Vets Club
August 4: Pierce and St. Croix Counties Vets
August 5: Washburn County Vets
August 12: Sawyer County Vets
September 6: Full Moon Paddle
September 30: Honor the Colors Fall Paddle

Veteran Honor Cruises
Enjoy a free cruise down the beautiful St. Croix River with other veterans in a pontoon boat while learning about the history and significance of the Riverway.
July 10: Open to all Vets Tour
July 17: MAC-V Homeless Shelter Tour
July 31: Open to all Vets Tour
August 9: Minneapolis VA Medical Center Wellness Group Tour
September 18: Century College Vet Club Tour
September 25: Women Vets Honor Cruise
Contact: Jeff Butler, Veterans Program Coordinator at 715-635-8346, ext. 425 or jeffrey_p_butler@nps.gov for questions and to register.
Watch a
video
about a young veteran suffering from PTSD describe how the Vets On The River Program at the St. Croix National Scenic Riverway has helped him.
The Mission Continues Veterans Only
The St. Croix National Scenic Riverway is recruiting a Fellow to work the Vets On The River program to prepare a summary of best practices and lessons learned, as well as planning for the future of this program. Honorably discharged veterans of the U.S. Armed Forces having served a minimum of 24 months (total) after September 11, 2001 are eligible to apply.
The Volunteer Fellow application closes on July 17, 2017. The opportunity timeframe is from October 2017 - April 2018.
Apply here
.
Last updated: July 11, 2017