Camping: Namekagon & Upper St. Croix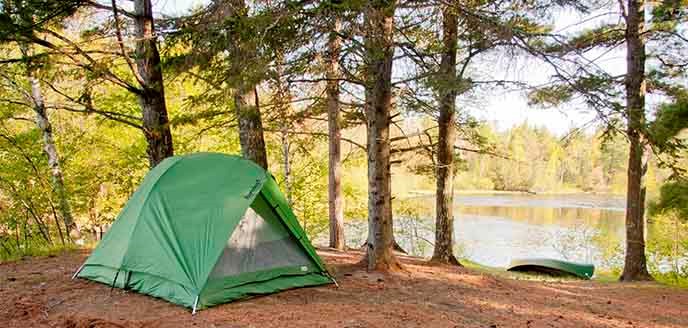 Unbroken stretches of forested scenery, relatively free-flowing rivers, and quiet solitude characterize this camping zone. There are no fees to camp here and sites are available first-come, first-served.
Campsites
Camp only at designated sites marked with brown camping signs and metal fire rings. Primitive toilets are located near the campsite--bring toilet paper. There are picnic tables at most sites. Drinking water is not available.
There is a three-night limit of stay. All campsites must be occupied on the first night of stay and equipment left unattended for 24 hours will be considered abandoned. Individual sites accommodate a maximum of 8 people and 3 tents. Group campsites accommodate a maximum of 16 people and 6 tents.* Quiet hours are from 10:00 pm to 6:00 am daily.
Campfires
Open campfires are allowed only in metal fire rings. The cutting of live vegetation is strictly prohibited. Dead and down wood may be collected from shoreline areas, but not from islands. To prevent the spread of emerald ash borer, possession of firewood that originates more than 25 miles from the location where it will be used is prohibited. Campfires must be out and cold before you leave the site.
Indian Head Flowage
Additional rules exist from Nevers Dam Landing to Highway 8 on the St. Croix River--the Indian Head Flowage. Self-contained vessels may tie up for night anchorage anywhere along the shoreline except at designated campsites and on private property. Passengers must use onboard toilet facilities and may not build campfires or erect tents on shore.
Need a camping brochure? Contact the park by calling 715-483-2274 or by email (sacn_info@nps.gov).
Last updated: September 5, 2021