July 1st Storm Damage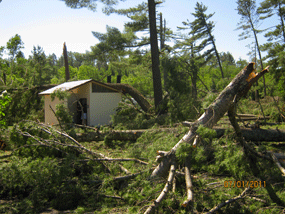 Visitors:
Portions of the Riverway suffered extensive tree damage from strong winds on July 1 and subsequent storms. Storms on August 2 created dangerous conditions on the upper St. Croix and Namekagon rivers due to high water and downed trees. Water levels have returned to normal levels, but another heavy rain may raise them once again.
Trees however may still be in the river. We know of no trees blocking the river, but the current can sweep canoeists into trees and trees and branches can be submerged and not clearly visible.
Visitors to the Riverway should always pay attention to storms and the potential for rising water. Consistent rains this summer means the river can go to flood stage faster than in a "normal" summer. Being aware can be a matter of life and death or at least of hanging on to your gear and staying dry.
The tree damage occurred downstream of Trego on the Namekagon or upstream of St. Croix Falls on the St. Croix. Campsites and landings have been reopened except for Riverside. Riverside has limited parking,canoe access and camping. Caution needs to be maintained as trees outside of campsites and landings have not been evaluated for hazards. Weakened trees and roots may still cause problems.
Please call for the latest information on conditions. The St. Croix River Visitor Center can be reached at (715) 483-2274. The Namekagon River Visitor Center is at (715) 635-8346.
For information on predicted river levels or current river levels
Landowners:
If you own land along the Riverway that is covered by a Scenic Easement, you need to follow the following procedures to remove downed and hazard trees.
GUIDELINES FOR REMOVING STORM-DAMAGED TIMBER FROM SCENIC EASEMENT PROPERTY WITHIN THE ST. CROIX NATIONAL SCENIC RIVERWAY
(Emergency Rule adopted July 2011)

I. Within the boundaries of any Scenic Easement property, it shall be permitted to remove storm-damaged or downed trees or parts thereof from the premises, provided that:

a. Said trees or tree parts are in a mowed/maintained area in proximity to a residence (home or cabin), or:
b. Lying across or leaning towards any structure or driveway located within the Scenic Easement.
II. All other storm-damaged or downed timber within the 100-foot wide Riparian Management Zone portion of the Scenic Easement property shall be left in place as is (see the Wisconsin DNR's Best Management Practices manual in reference to Riparian Management Zones).
III. It is the responsibility of the Landowner whose property is encumbered with a National Park Service scenic easement to contact the St. Croix National Scenic Riverway's Lands Specialist Laura Hojem (715-483-2261) with any site-specific questions in regard to these Guidelines, prior to commencement of site clean-up activity; a site visit by a National Park Service Official is necessary, to make a determination and give approval.
IV. It is the responsibility of the Landowner to secure any and all necessary permits from local and state units of government prior to beginning any salvage operation once approval from NPS has been granted.

To print a copy of this document GUIDELINES FOR REMOVING STORM-DAMAGED TIMBER FROM SCENIC EASEMENT PROPERTY WITHIN THE ST. CROIX NATIONAL SCENIC RIVERWAY
Additional Information and guidelines can be found at the Wisconsin Department of Natural Resources website:
Last updated: April 30, 2019