Camping: High Bridge to Boom Site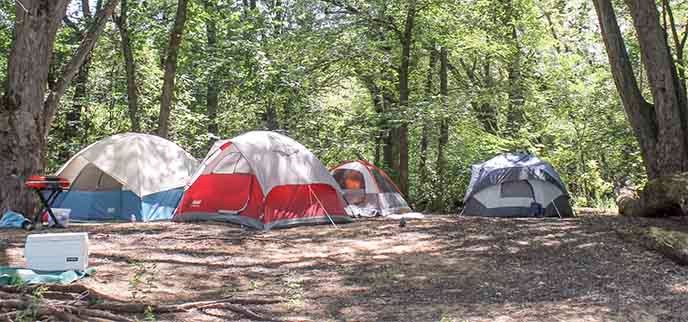 A transition zone between the meandering river to the north and the deep Lake St. Croix offers a social camp setting. Help protect the islands by limiting the wake thrown by your boat, not gathering firewood, and taking your trash with you.
Camping
Camping on this stretch of the St. Croix River is limited to islands only. This area is first-come, first-served. Drinking water is not available.
All campers must have immediate access (within 250 feet) to a toilet. Floating toilets are available at several locations. If not using these facilities or onboard toilets, visitors must bring and use their own portable toilets.
There is a seven-night limit of stay (maximum of 30 nights annually). All camping areas must be occupied on the first night of stay and equipment left unattended for 24 hours will be considered abandoned. Quiet hours are from 10:00 pm to 6:00 am daily.
Campfires
Firewood may not be gathered from any island. No cutting is permitted of live trees or dead standing trees. To prevent the spread of emerald ash borer, possession of firewood that originates more than 25 miles from the location where it will be used is prohibited. Campfires must be out and cold before you leave the site.
Need a camping brochure? Contact the park by calling 715-483-2274 or by
email
(sacn_info@nps.gov).
Last updated: September 5, 2021