50 Things To Do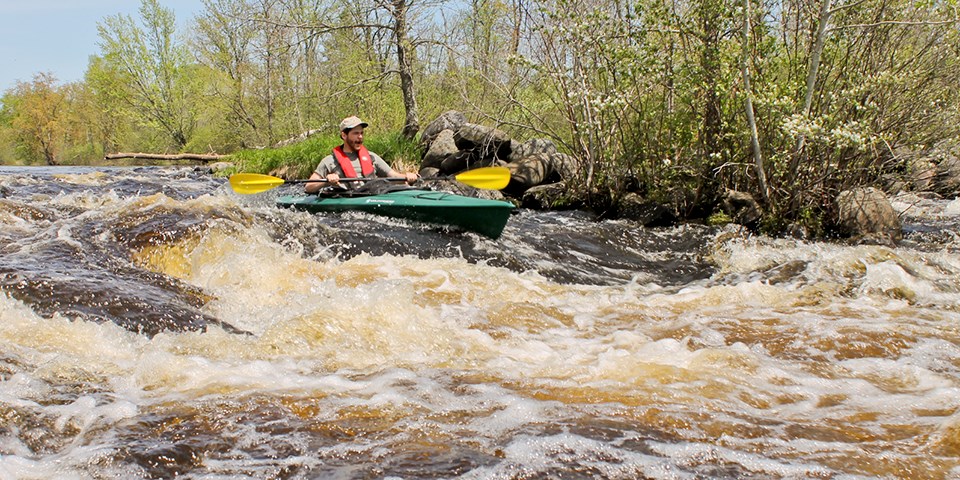 Here is a list of 50 things you can do. How many activities can you check off?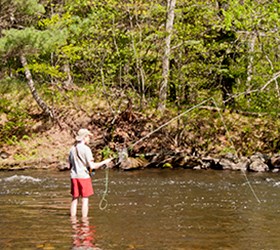 On The Water
Kayak the Namekagon/St. Croix confluence.
Take a paddleboat trip on the St. Croix River.
Float the Big Bend of the Namekagon.
Paddle the Kettle River Slough.
Fish for trout on the upper Namekagon River.
Dip your toes into a riverside spring at County Road O Landing.
Have a canoe race with your friends.
Count the sturgeon you see on the lower Namekagon River.
Watch an eagle nest.
Take pictures of the High Bridge.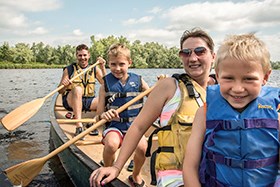 With the Family
Picnic at Osceola Landing.
Bird the Trego Nature Trail.
Camp at the Sandrock Cliffs.
Teach the kids to kayak at Norway Point Landing.
Visit the Namekagon River Visitor Center.
Visit the St. Croix River Visitor Center.
Snorkel at the Cable Wayside.
Attend a Junior Ranger Program.
Skip stones at the Snake River Landing.
Fish from the pier at the St. Croix River Visitor Center.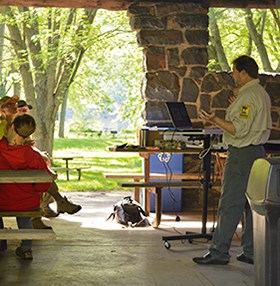 Near the River
Visit a state park along the Riverway.
Ride a horse in Governor Knowles State Forest.
Listen to Cascade Falls in Osceola, Wisconsin.
Bicycle over the St. Croix River on the Gandy Dancer Trail in Danbury, Wisconsin.
Walk the streets of a river town.
Drive the St. Croix Scenic Byway.
Walk on the Gordon Dam.
Go birding at Crex Meadows Wildlife Area.
Paddle a St. Croix or Namekagon tributary.
Visit the overlook in St. Croix Falls.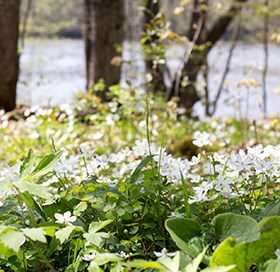 On the Trails
Count spring wildflowers on the Indian Head Flowage Trail.
Hike on the North Country National Scenic Trail near Gordon, Wisconsin (Its the 50th Anniversary of National Scenic Trails).
See potholes created by glacial meltwater at the Interstate parks.
Snowshoe on the Trego Lake Trail.
Hike all seven National Park Service Trails at the Riverway.
Hike on the Ice Age National Scenic Trail near St. Croix Falls, Wisconsin (Its the 50th Anniversary of National Scenic Trails).
Backpack camp on the St. Croix Trail.
Take your dog for a walk (on leash) on a Riverway trail.
Walk both of the Ridge View Trails.
Enjoy the fall colors.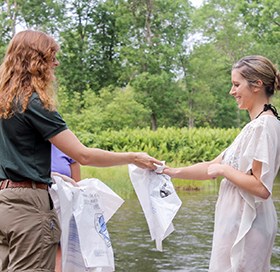 Be A Riverway Steward
Use "Leave No Trace" principles when camping.
Carry a bag and pack out your trash.
Pick up your pet's waste.
Use refillable non-glass drinking bottles at the river.
Make sure your campfire is out and cold before you leave.
Learn how you can prevent the spread of aquatic invasive species.
Take your leftover bait home and recycle the container.
Use lead-free tackle and shot.
Become a Junior Ranger.
Volunteer at a river clean-up.
Last updated: April 23, 2020