In A New Light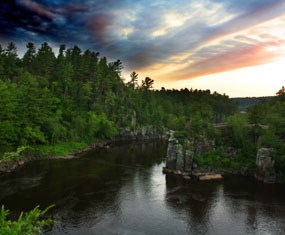 "In a New Light" Photo Exhibit Highlights the Power of Parks and Art to Change Lives
Saint Croix National Scenic Riverway and Northwest Passage, a residential treatment facility for at-risk youth,teamed up to engage youth in the Riverway through arts.Funded by an "America's Best Idea" grant from the National Park Foundation through the generous support of Unilever, the project immersed at-risk teens in the beauty of the Riverway as they embarked on a photographic journey of discovery, hope, and healing.Professional nature photographers empowered each participant to tap into their own unique vision, and a production company enabled the teens to document their artistic and emotional journeys.
When the project began, these at-risk teenage boys had rarely ever held cameras.But with photography gear, instruction, and a lot of time on the Riverway, they created stunning photographs. The project taught these boys how to use their natural tendencies to take risks, operate outside of convention, and make emotion-based decisions to create great art rather than get in trouble.The natural beauty of the Riverway quieted the boys' minds and allowed them to develop the deep focus required to create great photographs.

"Experiencing a place as beautiful and wild as the Riverway can be therapeutic for anyone," says Ben Thwaits, the Northwest Passage teacher who served as the project leader."However, creating good photos requires that the kids learn to truly open themselves to nature so they can feel and express its subtle beauty. It's a process that can be profoundly healing for kids who need it the most."
One 14-year-old participant explained "Photography on the river is something that helps me forget what's happened. It's someplace I can simply walk into.Someplace quiet where I can peacefully think."
Riverway Superintendent Chris Stein remarked, "This project speaks to tremendous power of parks to touch people in profound ways.We know that the people who see these photos will be moved by the images.In the tradition of artists who have inspired preservation of our country's wild and scenic places, the work of these young adults will be a way for others to connect to and care about this place."
The power of this project was highlighted during the exhibit reception on October 7th at the St. Croix National Scenic Riverway Visitor Center in St. Croix Falls, WI.After hearing remarks from Superintendent Chris Stein and Northwest Passage teacher, Ben Thwaits, the documentary of this emotional journey was shown.After the documentary all of the boys were called up to the front where they received the first standing ovation of their lives. There were many in the audience moved to tears. One participant remarked it was the first time he had ever got an adrenaline rush from doing something good.
To see these powerful photos and hear the boys stories in their own words visit the project website at www.inanewlight.org and check out the project blog at www.inanewlightphotos.blogspot.com. For more information about Northwest Passage visit www.nwpltd.org
After leaving St. Croix Falls on October 29th this travelling exhibit and documentary film will travel around the state of Wisconsin including stops in Wausau, Spooner, Cable, and Madison.
This project would not have been possible without the help of other community partners including Black Iris Gallery, the Wisconsin Arts Board, Cable Natural History Museum, Black Ice Outdoor Productions, and UW-Marathon County
Last updated: April 30, 2019