Google Earth -St Croix NSR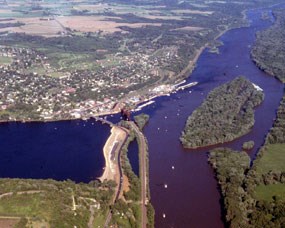 Some times it helps to look at things from a different perspective. One way to take a new look at St. Croix National Scenic Riverway is to take a look from the air. To do this we are using Google Earth. Google Earth combines satellite imagery and maps to help you see the world and beyond. The basic program is free and available for download at Google Earth . The product is designed for use on newer computers with broadband or fast connections.
If you have downloaded Google Earth you can connect on any of the three files below. Clicking on any of these KMZ files will automatically open Google Earth and zoom in on the features selected along the Riverway. As you close out of Google Earth, the program will ask you if you wish to place these items in "My Places." If you respond "yes" these features will be stored on your computer and will display the next time you reopen the program. If you say "no", you can come back here to see the files.
St. Croix National Scenic Riverway Features:
This file will show you all the landings and campsites along the Riverway. This was last updated February 2009. Campsites and Landings.KMZ Campsites are the red dots and landings are the light blue dots.
This file shows the boundaries of the Riverway. In the red outlined Federal Zone, the land is owned by the federal government, state, county and city governments and private individuals. It is not all owned by the National Park Service. In the green outlined State Zone, the land is owned by state, county and city governments and private individuals. These boundaries should be considered approximate. Riverway Boundaries-Federal and State Zone.KMZ
The St. Croix River is part of a watershed. A watershed includes all the rivers, streams and rainwater from which water flows into that river. Within the St. Croix watershed are smaller watersheds such as the Namekagon River watershed. The St. Croix watershed is also part of the larger Mississippi watershed. To see the St. Croix Watershed and the smaller watersheds included in it. Watershed.KMZ
Last updated: April 30, 2019