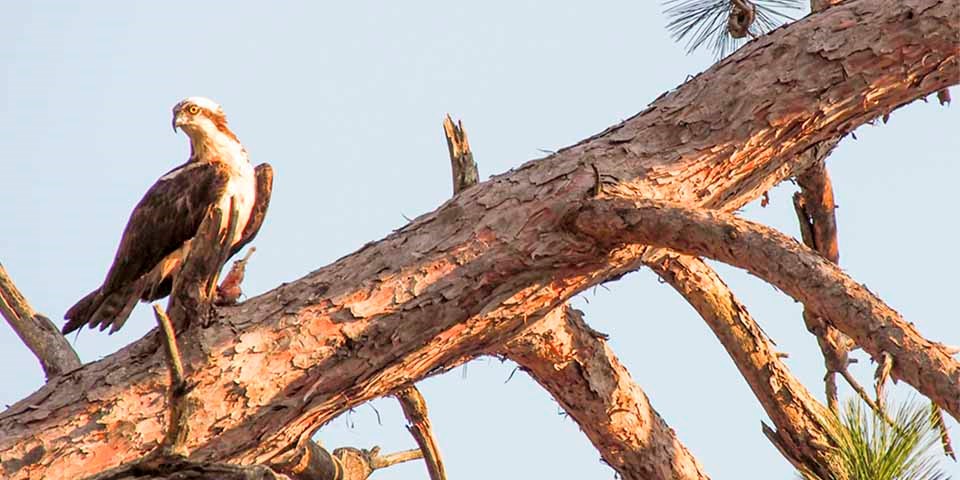 Common Riverway Species
You are likely to see these species on most stretches of the Riverway and during most seasons of year with the exception of winter.
Bald Eagles
Over 30 pairs are known to nest on or near the St. Croix and Namekagon rivers.
Large concentrations of eagles heading north are common after ice breakup.
Eagles are abundant at times with 30-40 birds seen per hour in St. Croix Falls during fall migration.
You can see occasional year-round resident birds near open water, especially between Highway 8 and the hydroelectric dam.
Osprey
Osprey breed within the park boundaries, building nests similar to eagle nests.
Watch for interactions between ospreys and bald eagles.
Common Mergansers
Swimming groups, containing multiple females with broods of their young, are common on the rivers.
They dive for fish and are sometimes called "sawbills" because of their serrated beaks.
Great Blue Heron
Several heron rookeries are located on or near the rivers.
Watch for them stalking prey near the shoreline.
Turkey Vultures
These large birds gather over the dam in St. Croix Falls and Taylors Falls, riding the thermal air currents as they rise.
They hold their wings in a "V" and tip from side to side as they soar.