Insects and Their Allies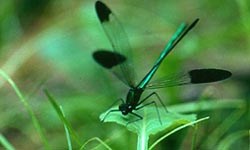 Insects can be ugly or beautiful. Some mange to be both at different stages of their life. At times The Riverway can have too many insects, with mosquitoes, black flies and ticks abounding.
Dragonflies are part of what makes the Riverway special. A new species, the St. Croix Snaketail, was discovered in 1993 and has brought attention to the variety and quantityof dragonflies to be seen both in and out of the water. A list of Dragonfly species.
Butterflies also add color to the Riverway. From early spring to late fall they can be seen flying and landing on plants and river shorelines. A list of Butterfly species

Last updated: April 30, 2019