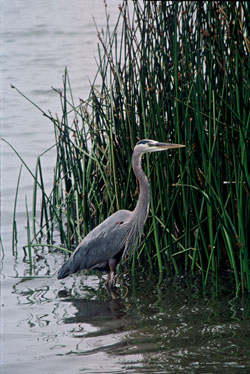 Birds Seen at St. Croix National Scenic Riverway
There are 244 species of birds included in the Riverway's Bird Checklist. Of these, 162 species are known to nest here and 160 are considered neotropical migrants . These numbers represent a high diversity of species which is a direct result of the high diversity of habitats found in the Riverway. The 252 mile Riverway crosses three major types of habitat: coniferous forest, hardwood forest and prairies. These are in turn modified by the transition zones between them, topography (slope and aspect) and how wet or dry the site is. For example, the draft version of the park's new vegetation map (due in late 2012) lists eight major forest types with thirty-two sub-types of forest. In all, the map shows sixty-five types of habitat in 22 major categories of forests, shrub lands, grasslands and wetlands as well as open water and developed areas. No matter how you slice it and dice it, the result is a wide variety of diverse habitats for birds in which to feed, nest and raise their young.
Follow these links to learn more about the Riverway's specialty birds and the effect of the River's North/South Orientation on its bird population and migration patterns. We also recommend good locations along the Namekagon River for observing birds (or birding).