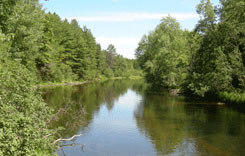 National Park Service areas are created by the United States Congress for the American people, so that all may experience our cultural and natural heritage. With that comes an obligation on park management to provide for safe recreational and educational opportunities while protecting the resources they are based on. For that reason rules and regulations have been established to protect St. Croix National Scenic Riverway's resources and you the visitor.
General National Park Service regulations (36CFR Parts 1-7) can be found at http://www.gpo.gov/fdsys/browse/collectionCfr.action?collectionCode=CFR.
Specific St. Croix National Scenic Riverway regulations are found in the "Compendium " which are set by park staff to protect the Riverway and park visitors. This is updated annually and comments can be sent to the park at any time.
Firearms: As of February 22, 2010 a new federal law allows people who can legally possess firearms under applicable federal, state, and local laws to legally possess firearms in this park.
It is the responsibility of visitors to understand and comply with all applicable state, local and federal firearms laws before entering this park. The St. Croix NSR is located in two states, each with different firearms laws.
As a starting point, please see Minnesota's 624.714 Personal Protection Act or Wisconsin's Statute 175.60.
Federal law also prohibits firearms in certain facilities in this park; those places are marked with signs at all public entrances.
For specific National Park Service regulations you may read Section 2.4 of Title 36 of the Code of Federal Regulations, or call or e-mail this park, for more...


Some other regulations you should be aware of are:

Lower River Camping Regulations are now in place. Please familiarize yourself with them if you plan to camp below Highway 8.
Alcohol may not be possessed or consumed at Eagles Nest Campsite, Osceola Landing, Fairy Falls and Arcola Bluffs Day use area.
Firewood any wood being brought with you must not originate more that 50 miles from the Riverway. This is to prevent the spread of invasive insects.
Please do not bring glass containers to the Riverway. Broken glass cuts bare feet.
Carry Out Your Trash: Come prepared for your visit to St. Croix National Scenic Riverway by bringing trash bags. There is a carry-in, carry-out policy at the Riverway. This policy offers several advantages. It saves taxpayers money by reducing trash collection costs. Unsightly dumpsters and foul odors do not mar Riverway settings. Overflowing garbage cans do not tempt wildlife such as yellow jackets, raccoons or bears.
Fireworks are prohibited on federal land
Boats are not allowed to travel from the south, north on the river past the High Bridge. This restriction is in place to prevent the spread of zebra mussels.
Wild & Scenic Rivers Act is the legislation under which the Riverway was created by Congress in 1968 along with seven other rivers. The Act has since been amended and additional rivers,including the St. Croix River below St. Croix Falls have been added. This legislation is the base for all Park Management. To see the Wild & Scenic Rivers Act.If you have questions regarding any of these regulations please contact the park at 715-483-2274 or e-mail.