Research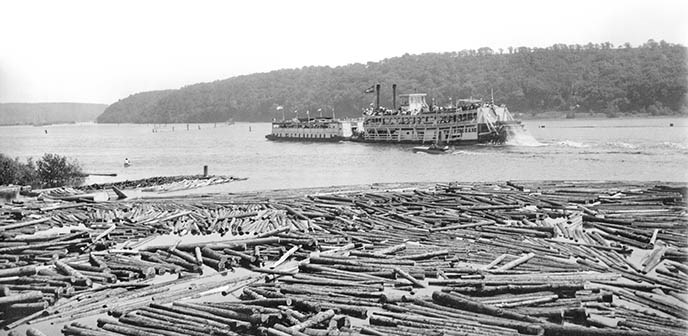 Ruins of a Forgotten Highway
The St. Croix wasn't always as free-flowing and quiet as it is today. In the age before cars and paved roads, rivers were the most common avenues of travel throughout the Midwest. During the late 1800s, the St. Croix was a bustling commercial highway filled with steamboats, barges, canoes, bateaus, logs, and rafts moving people and goods up-and-down the river and into the larger marketplace of the region.
To accomodate the traffic, the U.S. Army Corps of Engineers systematically "improved" the river for commerce by building over three miles of wing dams, closing dams, jetties, and shore revetments to insure a three-foot shipping channel for steamboat navigation. These water control structures were later forgotten as the river became better known for its scenery and recreation in the 20th century. The dams deteriorated, becoming overgrown and silted-in as the river's current claimed them as part of its ecosystem.
During June 2015, the St. Croix National Scenic Riverway teamed up with the Submerged Resource Center and the Midwest Archeological Center research the "wild" St. Croix's extensive wing-dam system. Utilizing historical research, sonar, and terrestrial and submerged ground-truthing investigation the team found and documented remains of 44 of these rock-and-timer structures along 26-miles of river - some the size of railroad grade and hundreds of feet long.
Last updated: September 7, 2021