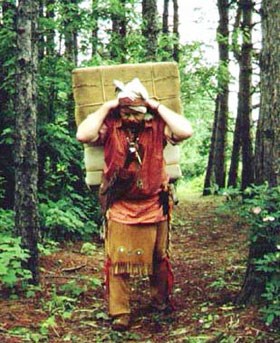 By the late 1600s, French fur traders had entered the St. Croix valley and begun interacting with both the Dakota and the Ojibwe. The fastest way to get to the St. Croix from the east took months. Fur traders went through the Great Lakes, up the Bois Brule River (which flows north into Lake Superior) and portaged to the headwaters of the St. Croix, which then flows south to the Mississippi River or took other similar routes. Everything the voyageurs brought to and from the valley had to fit in their canoes and at points be carried between rivers on their backs. To make the most of their long and arduous journeys voyageurs enlisted the help of the Dakota and Ojibwe to acquire the beaver and other fur pelts and then trade them for western goods. These sashed frontier entrepreneurs set up trading throughout the valley, connecting the St. Croix's inhabitants and resources to the wider world economy.
While the fur traders of the Midwest and north woods are the romanticized figures of the early American frontier, much of their industry took place as a subplot to intertribal conflicts in the St. Croix valley. The Ojibwe were just moving into the St. Croix Region at the time the voyageurs reached the area. The Ojibwe had previously traded with voyageurs as they moved to the region from the east. The Dakota which occupied most of Minnesota and part of Wisconsin prior to this time had had limited contact with the fur trade and were eager to gain trade goods including guns. The Ojibwe helped them establish trade. The Ojibwe would become their most common rival in the valley as both vied for expanded territory as the Northwoods became over hunted and could no longer nutritionally sustain both groups. The fur-trade contributed to this conflict, but did not instigate it.
Traders both limited and aggravated tribal conflicts amongst the Dakota and Ojibwe. In some instances, traders encouraged tribes to expand their hunting ground into the territory of other groups they felt were not trapping enough, which led to violence. However, in other cases they attempted to broker peace, because the tribes hunted smaller areas in times of war. As the fur trade in the valley transitioned from French to British in the 1760s and then finally to American control after the War of 1812, federal Indian agents began to play a greater role in regulating the industry's impact on tribal conflict. Adopting a policy of separation, agents actively discouraged traders from working with both Ojibwe and Dakota at the same locations and sought to stop them from building trading posts near the territorial borders. In one instance in 1832, federal agent Henry Schoolcraft burned down a trading post near the 1825 boundary separating Dakota and Ojibwe territory (near the site of Taylors Falls, MN).