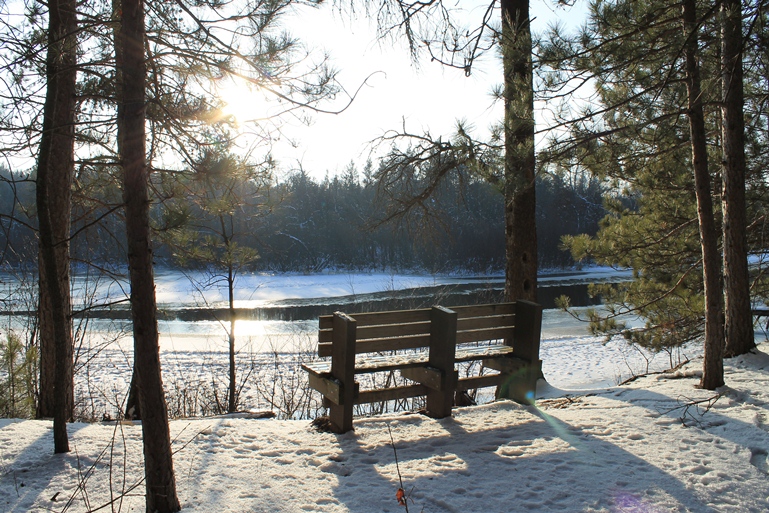 As cold weather begins to settles in and the rivers begins to freeze, it's time to start thinking about ways to get out and enjoy the area during the winter. While recent snow is packing down a little, there are two great trails along the Namekagon River that offer a wonderful experience.   
Trego Nature Trail
The Trego Nature Trail is located near the Namekagon Visitor Center in Trego. While not groomed for skiing, this 2.8 mile round trip trail is a favorite for those who enjoy snowshoeing or winter hiking.  Strap on your snowshoes and trek through several forest types as you glimpse many beautiful views of the Namekagon River.  Keep your eyes open for animal tracks and otter slides.
Trego Lake Trail
Located along the Trego Flowage, this 3.6 mile trail offers skiers three loops with many scenic overlooks of Trego Lake.  This trail is considered intermediate for skiers, with moderate hills and provided wipe out areas.  The inner loop can be skied after skills have been developed.  Hikers are permitted in the winter, but please remember to stay off the ski tracks.Keep your eyes and ears open: this is also a favorite trail for white tail deer and grouse!.
Before venturing out make sure to call the Namekagon Visitor Center at 715-635-8346 for current trail conditions. For a map of these trails visit https://www.nps.gov/sacn/planyourvisit/brochures.htm and click hiking. 
For those of you, who are not able to visit the Namekagon River this winter, make sure to check our Facebook page for winter pictures and updates on what's happening along the entire Riverway at https://www.facebook.com/StCroixNationalScenicRiverway.
We hope to see you out there this winter!