Over halfway through the calendar winter, it's easy to begin thinking about warmer weather. Yet while the St. Croix watershed region is blanketed in snow and has received consistent, if not small, amounts of precipitation recently, the area still suffers from the effects of lingering drought. Despite the two record high water events on the St. Croix late last spring, initial climate reports for January indicate that the moisture amounts in this snowfall was slightly above normal for the first time since June.

 

This is reflected in a graph of the river flow over the last year from a gage in St. Croix Falls (below).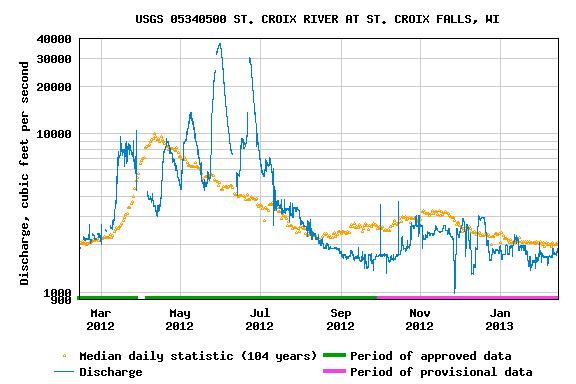 The brown line indicates the historic average of water which has annually flowed past this location for over 110 years. On average, the river has experienced "ice-off" in early to mid-March, as indicated by the sharp rise in river volume from snowmelt at about that time. I should note that monitoring the volume of moving water is a more consistent measurement than observing the apparent speed or depth, as a rivers gradient and width, even over short distances, can be misleading. This measurement is of cubic feet per second (cfs; 1 cfs = about 7.5 gallons) of water passing a location at a given time.
The blue line indicates the flow of the St. Croix River from February 14, 2012, through this morning.   While there is always some variability over time, this past year was unusual. The ice left the river very early, due in part to the record warm weather we experienced in late winter, and then heavy rainfall in mid-May and early June filled the river in late spring, as indicated by the two dramatic peaks at that time. 
Since then below average precipitation in the watershed has resulted in water levels which have been mostly below normal. At this point no forecast could accurately predict what the coming months will bring in regards to additional snowfall, but enough rain to balance the current shortage would be a great way to start the paddle season.