For thousands of years, the St. Croix River has meandered through the Northwoods, merging waters from hundreds of smaller streams and rivers. The river glides through wetlands, wide valleys, and billion year old lava outcroppings before flowing past tree shrouded bluffs of sandstone. It has has been witness to epoch ending periods of glacial floods, birch bark canoes, steamboat whistle blasts and record log jams. Today it offers opportunities for exploration and adventure, solitude and rest.  On Saturday, July 14, the public is invited to participate in the St. Croix Sojourn, a celebration of family fun, discovery, river stewardship and artisans sharing their talents, hosted by the National Park Service, Minnesota State Parks, and Wisconsin State Parks.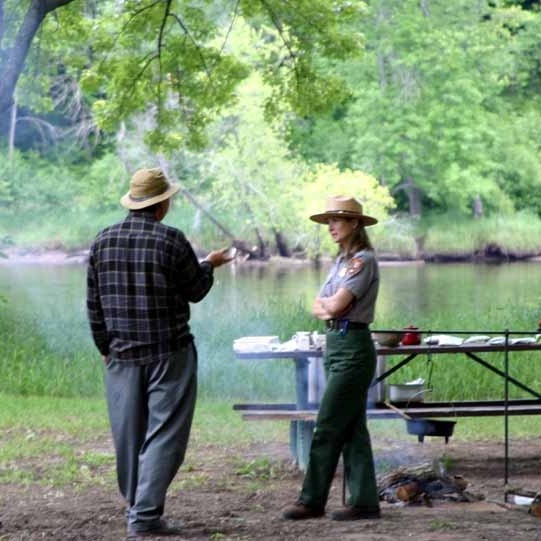 Begin the day between 10:00 a.m. and noon at either Wisconsin Interstate State Park (St. Croix Falls, Wisconsin) or Minnesota Interstate State Park (Taylors Falls, Minnesota), and enjoy a relaxing 2- 3 hour float trip on the historic and scenic St. Croix River. At designated stations along the way National Park Rangers and State Park Naturalists will share stories of the rivers past. Learn about the geology of the St. Croix Valley, how and why fur traders from Europe plied its waters in the early 1800s, log jams that blocked the river, and even what the river looks like from a fish eye view. A passport stamp card will be available to allow participants to receive a special reward at the end of the trip. 
Complete the day at the National Park Service Osceola Landing, where additional fun will feature artists at work, digital scavenger hunts, kayaking demonstrations, and St. Croix Junior Ranger activities. All activities at this location will be available to the public from 10:00 a.m. until 3:00 p.m., and are also accessible for visitors without watercraft. Osceola Landing is located on Highway 243, across the river from Osceola, Wisconsin.
Sojourn participants should plan to start their trip between 10:00 a.m. and noon, and access to the state parks requires a valid annual or daily vehicle pass. All stations are free and open to the public. Canoes, kayaks, and other equipment are not provided. A listing of canoe and kayak outfitters and shuttle services is available elsewhere on this website. Additional information can be requested via email at sacn_interpretation@nps.gov; or by calling 715-483-2274.