The current high water on the lower St. Croix River is due to the same weather system that dropped up to 10 inches of rain in northern Minnesota June 17 - June 19 which caused destructive flooding in Duluth. This rainfall also caused the Kettle River to begin rising dramatically on Wednesday, June 20, but due to the distance involved took it several days to reach the St. Croix.
Below is a graph of the water volume in the Kettle River at Sandstone, Minnesota, the week of June 16-23. Rainfall on June 17 saturated the ground, which further accelerating the run-off of heavy precipitation from a second storm on June 19 and quickly raised the Kettle to an all time record high.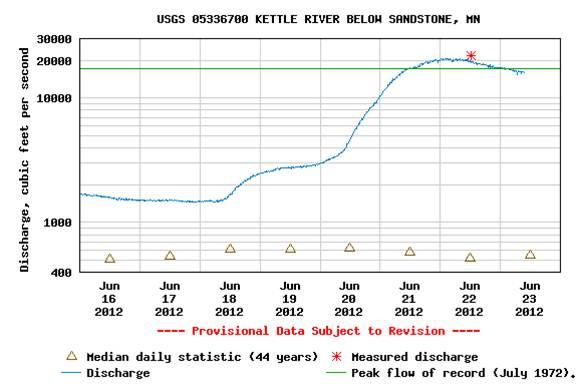 The gage in Sandstone is about  25 river miles up river from the St. Croix, and the confluence of the two is another 46 miles to the next river gage in St. Croix Falls, Wisconsin. This distance is reflected in the time it took for this water to reach this second gage, reflected in the dramatic rise beginning there on June 22, as seen below.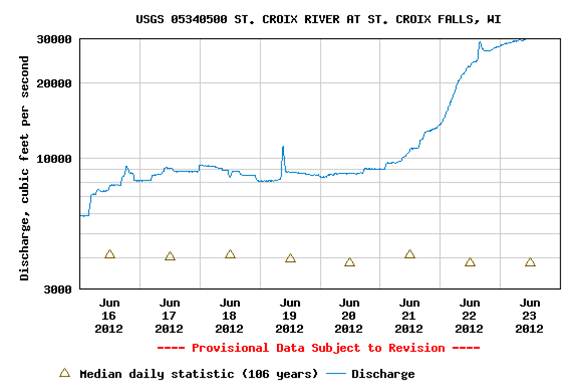 Just how much water is this?
Rather than referring to how high a river in flood may be, which can vary from place to place depending on the width of the river, it easier to measure the rate of flow at a given time in cubic feet per second (CFS). One CFS is approximately 7.5 gallons, and on the second graph the average river flow for today would normally be around 3,900 CFS, or roughly 29,250 gallons per secod of water.
The current flow of 29,900 CFS is over seven and one-half times this average, meaning 224,250 gallons per second or almost one-million gallons every four seconds!
This is an all time record for June 23, and the reason for the flooding occuring at this time. In these unusually conditions, please use extra caution if you choose to venture out.