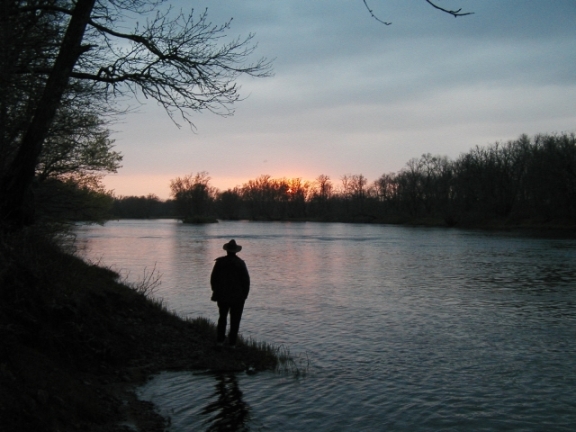 A home river is the rarest of friends, the one who frequently surprises you with new elements of personality without ever seeming a stranger. - Paul Schullery, "Home River"
It normally arrives late in the Northwoods, but this year spring arrived early. The news stories it generated were about record warm air that settled over the area for several weeks and the ice that vanished from the rivers in a few, short days. But there is so much more…
While camping next to the St. Croix last weekend the sunset revealed an explosion of new life on trees silhouetted against the fading light. After midnight, somewhere beyond the bend above the Sunrise River, the warm scent of the new season slipped silently in, bringing with it a sweet peace.
I've been asked in the past, in many different ways, about the special nature of a river. What is it about moving water that can seemingly captivate a person to simply sit and gaze as it flows by? To be held rapt and lost, as time and the river appear to become a single entity?
There is no easy answer.
Perhaps the answer may be found in the self-reflective quality of time spent moving at a river's pace. There are sadnesses so deep so as to never be extinguished; yet to merge these, even momentarily, with moving waters can bring tranquility, self-understanding, and healing. It is one of the truest gifts a river offers.
Perhaps it is a spiritual connection reflected in art that comes closest to explaining it.
Poets and artists have long been drawn to rivers: inspiration and a seemingly endless stream of metaphors are to be found by watching moving water. Night and day a river flows, on and on beyond the time we have to watch or even contemplate. It is ceaseless in its resolve.
Yet no poetry, no song, no painting, no sculpture and no photograph can entirely capture its spirit and rhythm. Long before the passion of a river can be reduced to a single moment, the artist merges with moving waters. A river's tempo whispers to the soul, its pace calms the heart, its serenity creates serenity.
Helpless are we who love rivers… we can lose ourselves and find ourselves at the same time.