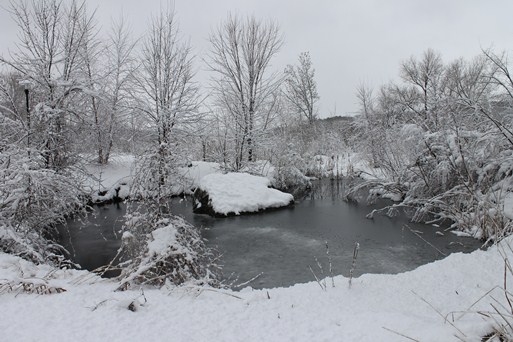 The late snows may bring some of us down, but the wildlife along the Riverway must adapt to it to survive. Bears and other hibernators may stay in their winter stupor longer than normal in a year like this, and will be far hungrier and faced with less food than normal when they finally begin to wake up.
Migratory birds, such as waterfowl, will arrive on time, and then have to delay their nest building until ice is off of local waters. Other bird species may arrive late and be faced with higher than normal water levels because of the delayed snowmelt and runoff. In fact, there are one hundred bird species which migrate from Central and South America to the upper Midwest each year, all competing for the perfect place to spend the summer
On Saturday, May 4, "Birding Day in the St. Croix Valley" will celebrate their return as part of International Migratory Bird Day. A partnership among the National Park Service, Minnesota and Wisconsin State Parks, and Crex Meadows Wildlife Area will present special programs on this day including birding hikes, paddles and geocaching.
In addition, the final presentation of the 2013 Riverway Speaker Series, titled "Migration - Beyond the Bottom of the Page", will be presented by Everett Janssen of the Kids Saving the Rainforest program.  Janssen will share stories about how solutions to many migratory bird habitat issues are being sought and found in the country of Costa Rica. (The St. Croix National Scenic Riverway, along with other national parks in the Upper Midwest, is in the process of forming a sister park relationship with Corcovado National Park in Costa Rica.)
The presentation is free and open to the public. It will take place at the St. Croix River Visitor Center, 401 North Hamilton Street, in St. Croix Falls, Wisconsin. To reserve a seat, call (715) 483-2274. Callers can reserve up to 4 seats.
For a complete schedule of all events taking place on May 4, visit:  https://go.nps.gov/birdday