Water Quality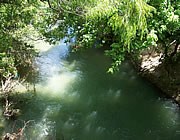 Most of San Antonio Missions National Historical Park resides along either side of the San Antonio River, which flows south from downtown San Antonio. Like water quality for any large city, surface water quality is affected by storm water run-off (that can contain pesticides), and by the quality of municipally treated sewage.
The most recent data published by the San Antonio River Authority in their annual Texas Clean Rivers Basin Highlights Report indicates that water quality in the San Antonio River does not meet the EPA standard for bacteria, and, therefore, is considered impaired. Over the last few years, the fish community composition shows an increase in the number of native species present. The park contracts with the River Authority for water quality and fish monitoring in the acequias (irrigation ditches) and park streams.
San Antonio Missions National Historical Park is also educating the public about the importance of water. In cooperation with San Antonio Water System, the park's education specialist developed a junior high school curriculum on the history of water in the park, irrigation and the acequia system, and the importance of water quality. Students are also taught how to conduct basic water quality tests. The program hopes to develop a sense of stewardship toward improving water quality.
Last updated: February 24, 2015