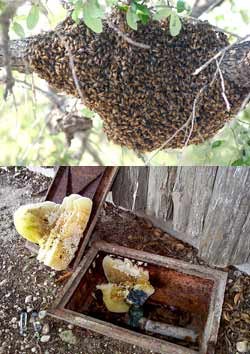 San Antonio Missions National Historical Park has four major pests that it deals with on a regular basis: the Subterranean Termite, the Africanized Honeybee, Feral Hogs, and the Fire Ant.
The Subterranean termite has the potential to quickly destroy the cultural resources in the park. The park has contracted out to manage this pest by placing termite bait stations around historical structures at the mission sites.
Researchers at Texas A&M University believe that many of the honeybee swarms found in South Central Texas are hybrids of the docile European honeybee and the aggressive Africanized honeybee, which may attack people with very little provocation. Park staff are managing for this pest by removing swarms or hives in areas frequented by visitors or staff. Squirting soapy water is the method of choice for treating swarms. Insecticides must be used to remove hives.