Air Quality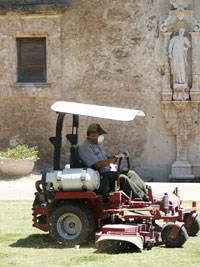 San Antonio Missions National Historical Park is within one of 16 air quality districts in Texas. The Clean Air Act, amended in 1990, provides that emission sources must comply with air quality standards and regulations that have been established by federal, state, and county regulatory agencies. San Antonio is a Class II area as it relates to the Clean Air Act, meaning that it is in an area with less ozone depletion potential than a Class I area.
Area air quality is considered good, except for ground-level ozone during the hot season (May through October). Ozone levels recorded in the San Antonio region have been elevated often enough that it is considered a "near nonattainment area," (high risk for violation of federal air quality standards), and is expected to be designated nonattainment in the near future.
The park does not monitor air quality since this data is readily available from the Texas Commission on Environmental Quality and the Alamo Area Council of Governments. These agencies operate numerous air quality monitoring stations in the area and also provide other information related to air quality and ways to help mitigate problems. The park is doing our part through such things as using propane mowers instead of gasoline-burning models and encouraging staff and volunteers to take public transportation when possible.

Last updated: February 24, 2015