History & Culture
Places
National Parks take care of special places. And what can be more special than those places that gave birth and nurtured our ancestors. [Page under construction]

Stories
Stories bring life to special places. Here is a collection of the San Antonio Missions' stories.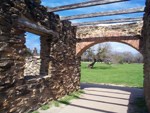 In order to better understand what these walled, medieval communities were like, it is important to first learn about five important factors of the missions: the people, the church, farming, ranching, and caminos reals.


Last updated: December 22, 2016