Things To Do
Each year thousands of visitors discover the cultural and natural significance of Russell Cave. Some visitors spend their time exploring the great mysteries of the prehistoric Native Americans, while other visitors explore the 115 species of birds that live on Montague Mountain. See just some of the adventures that await you at Russell Cave below!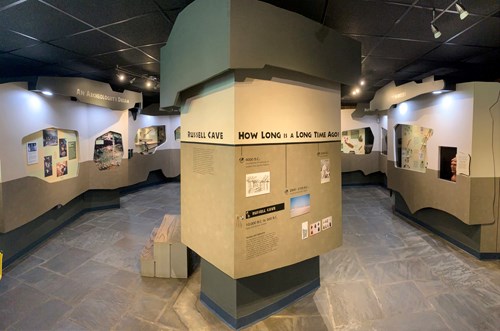 Visitor Center
Begin your exploration of the park in the visitor center. View the artifacts that were excavated from the cave shelter and watch a 7-minute film about the early inhabitants of Russell Cave. At the front desk, ask a ranger about the Junior Ranger program. Before leaving, be sure to check out the bookstore run by America's National Parks that has an assortment of books and souvenirs for adults and children.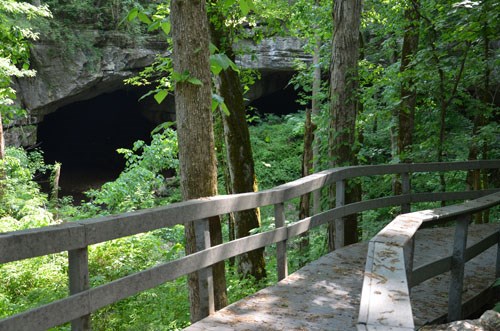 Cave Boardwalk
Take a short scenic walk along our boardwalk trail to get to the cave shelter. Rounding the final corner will give you a breathtaking view of the two cave entrances. Hear the babbling brook flow into the lower cave entrance and step back in time as you learn about past inhabitants at the mouth of the upper cave entrance.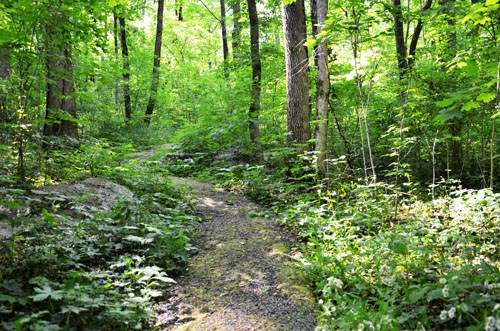 Hiking
If you're looking for more of an adventure, you can side step onto our 1.2-mile hiking trail just off the boardwalk on your way out to the cave shelter. This asphalt loop offers an escape to nature as you walk among the native trees and plants that line the path. This trail is steep and can be strenuous for some, so be prepared with proper shoes and water. If hiking during the spring, summer, or early fall, be on the lookout for snakes and always check for ticks after being outside near long or overgrown grass.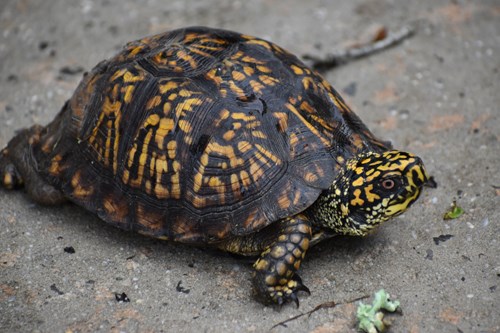 Nature Watching
Whether you're on the hiking trail, walking out to the cave shelter, or just driving into our park, you will be able to experience the beauty of nature all around you. At our peaceful park, there is a good chance you will see at least one of our many animals wandering around the fields or forest. Russell Cave is also listed on the North Alabama Birding trail so be sure to bring your binoculars and cameras to catch a glimpse of some of our birds. A list of all identified birds at Russell Cave is available upon request at the front desk.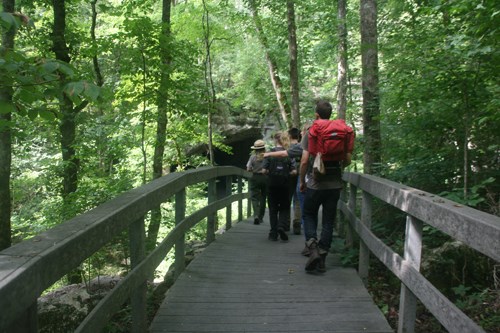 Ranger Led Tours
Ranger-led tours to the entrance of the cave shelter are offered daily upon request and depending on staff availability. The boardwalk to the cave shelter is wheelchair accessible. Visitors must stay on the boardwalk at all times.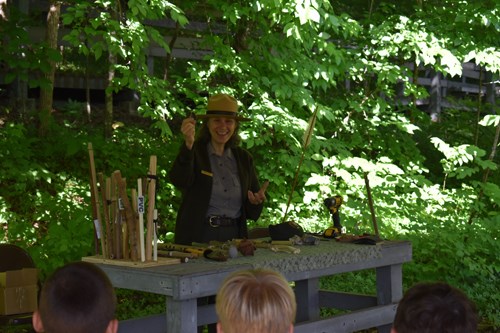 Demonstrations Upon Request
Outside, at our gazebo, rangers will periodically offer prehistoric weapons and tools demonstrations. Weapons demonstrations are offered daily upon request and are subject to ranger availability.

These demonstrations can include pump drill, spear throwing with atlatl, and stone corn grinding as well as many others.

Check out our
calendar
for special programs and demonstrations offered throughout the year.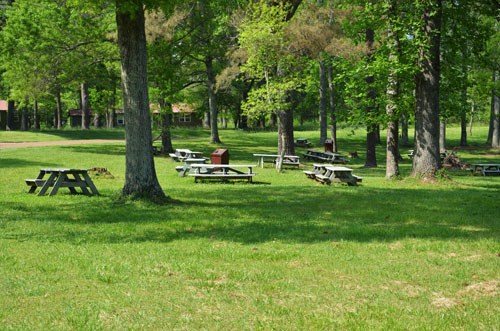 Picnicking and Recreational Activities
Picnic benches can be found around the parking area of Russell Cave. Picnicking is first come, first serve and there is no barbecuing allowed on site. Drones or unmanned aircraft are not permitted anywhere within the park, and the possession of a metal detector within park boundaries is a federal crime. If you have any more questions about rules or regulations, please regard the Russell Cave
compendium
.

Last updated: June 18, 2020