Permits & Reservations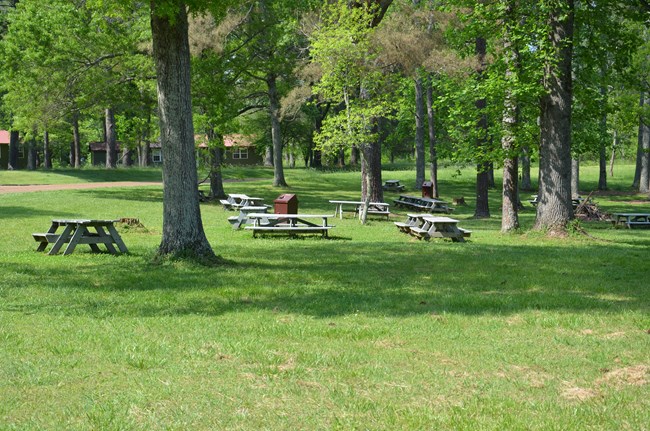 Permits
** Submitting an
application
does not guarantee acceptance. Applications are subject to approval and can be denied. **
Mail completed applications with payment to:
Little River Canyon National Preserve, 4322 Little River Trail NE, Suite 100, Fort Payne, AL 35967. Make checks out to National Park Service. If you have questions, please contact our office at (256)495-2672.
Permits are issued to ensure protection of resources and to prevent significant disruption of normal visitor uses. Allow sufficient time for evaluation by the park staff before the start date for your activity in the park. Your request will be evaluated based on the information in your application; therefore, you are encouraged to attach maps or diagrams to assist the park staff in evaluating your request. All projects undergo environmental or cultural resource evaluation.
What types of activities require a Special Use Permit?
Special events (such as weddings, receptions)

Celebrations (family reunions, birthday parties)

Scattering of Human Ashes

Public Assemblies/Meetings

Sale/distribution of printed matter
What is a Special Park Use?
Any activity that takes place in a park area that provides a benefit to an individual, group or organization, rather than the public at large

Requires written authorization and some degree of management control from the National Park Service in order to protect park resources and the interest

Is not prohibited by law or regulation

Is not initiated, sponsored, or conducted by the National Park Service
What fees will I have to pay?
The National Park Service is authorized to collect two fees: cost recovery and a location fee. Cost recovery includes an application fee which must be submitted with your application as well as a charge to cover the costs incurred by the National Park Service in processing your request and monitoring your permit.

In addition, the National Park Service has been directed by Congress to collect a fee to provide a fair return to the United States for the use of park lands.
$50
Non-Refundable Application fee must be submitted with the application

14 business days

prior to the event.
What type of activities require a Filming/Photography Permit?
Editorial stills

Advertising

Stock photos/film

Feature film

TV Movie

TV series/pilot

Documentary

Travelogue

Commercial

Music video

Public service announcements/films

Infomercial

Industrial

Wedding pictures
All commercial filming and photography activities taking place within a unit of the National Park system require a permit.

If you are receiving payment, or expect future profits for your filming or photography services, you will be required to have a permit.



You should submit a completed application along with the application fee as far in advance of your planned date as possible. In addition, you should request a meeting with park staff if your proposed activity is unusual or complex. Early consultation with park staff will help them process the application in a timely manner once it is submitted.
What fees will I have to pay?
*

$250

Non-Refundable Application Fee must accompany application.
* Must be submitted to the park

14 business days

before the event.
* All permit applications are subject to approval.
Last updated: January 11, 2021